Pupil Premium
The Pupil Premium at St John's Catholic Primary School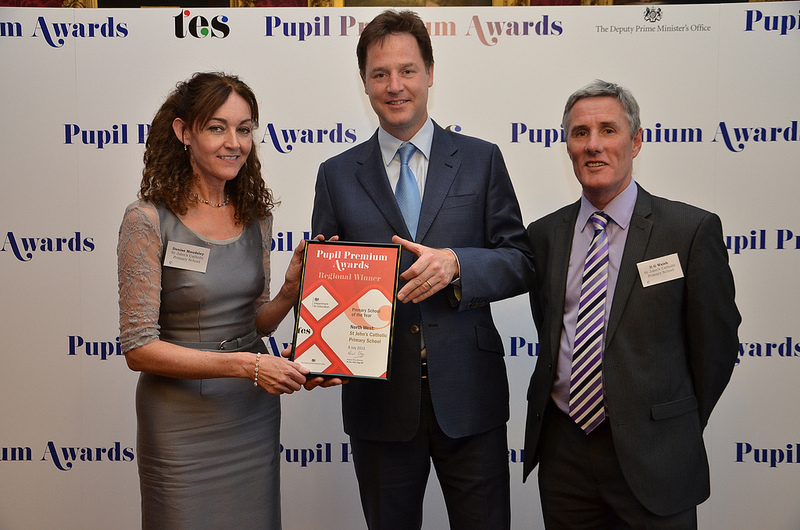 St John' s has been extremely successful in using the Pupil Premium very effectively and for maximum impact and the school has previously been awarded the North West Regional Pupil Premium Winner, in the Pupil Premium inaugural awards ceremony.
At the time, the then Deputy Prime minister, wrote to the school stating that:-
"The most recently available Key Stage results show that you are among the top performing schools in England for boosting the performance of disadvantaged pupils since the Pupil Premium was introduced. This is a real testament to the hard work of staff, pupils, parents and governors. I would like to congratulate you on your results and your proven commitment to making sure all children can succeed, whatever their background"
The Pupil Premium is allocated to children from low-income families who are currently known to be eligible for free school meals (FSM). The Government decided that eligibility for the Pupil Premium in 2012-13 was to be extended to pupils who have been eligible for FSM at any point in the last 6 years.
The Government believes that the Pupil Premium, which is additional to main school funding, is the best way to address the current underlying inequalities between children eligible for FSM and their wealthier peers by ensuring that funding to tackle disadvantage reaches the pupils who need it most.
Schools are free to spend the Pupil Premium as they see fit. However they will be held accountable for how they have used the additional funding to support pupils from low-income families.
Total funding through the Premium increased from £625m in 2011-12 to £1.25bn in 2012-13.
The level of the premium in 2011-12 was £488 per pupil for pupils eligible for FSM and for pupils in care who have been continuously looked after for six months. It increased to £600 per pupil in 2012-13, then to £900 for 2013-14, to £1300 per pupil in 2014-15, £1320 in 2015-2016.
Funding 2017-2018. For pupils recorded Ever 6 FSM £1320. Looked after children (LAC) defined in Children Act 1989, as one who is in the care of, or provided with accomodation by, an English Local Authority £1,900. Children who have ceased to be looked after by a local authority in England and Wales because of adoption, a special guardian order, a child arrangements order or a residence order £1,900.
The Pupil Premium and St John's Catholic Primary School
It is a legal requirement that we publish details of our Pupil Premium allocation outlining the spending of this money and the impact of this spending on the educational attainment of those pupils in respect of whom the funding was allocated.
A more detailed breakdown on the spending and its impact are available from the headteacher or click on the links below.
2020/2021
2019/2020
2018/2019