Punctuality
Punctuality
It is also extremely important that your child arrives on time for school each day. Even being a few minutes late disrupts their education as well as other children in their class.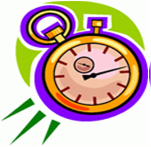 Arriving 5 minutes late each day means 3 school days lost.
Arriving 15 minutes late each day means 10 school days lost.
Arriving 30 minutes late each day means 20 school days.
Children are encouraged to arrive on time as lessons follow immediately after registration. If your child is late, please call at the school office so that dinners can be booked.
Late children need to enter via the main entrance, not through the classroom doors, which will be locked once the children have entered school.
Please do not knock on the classroom windows or doors to gain access, as this disturbs the children who will have begun their lessons.
If your child has an appointment and will be arriving at school late, please inform the school so that a dinner can be ordered.
Punctuality is crucial to your child's education and development of good habits. It is the parent's responsibility. Children who arrive late are missing out on valuable learning time.
It is important that children attend school on a regular basis and on time to ensure that progress is made. A child who misses school often will not only see an impact on their learning and education; they will also lack important socialisation and communication skills that they gain through playing and talking with their peers during break and lunchtimes.
Key messages:
Attendance is vital to your child's education and development.
Attendance is the responsibility of parents.
Good attendance will be recognised and rewarded in various different ways.
Absence procedures
St John's has a first day response policy. The school will contact home if a child is absent, to seek an explanation.
If your child is going to be absent, please inform school by phone. When a child is absent and a phone call not received the school will contact parents seeking an explanation for the absence. When returning to school (regardless of length of absence), a note explaining the reason for absence must be sent in. If a child's attendance is causing concern the school's attendance team will contact parents in order to find a solution. If this is not successful and does not lead to an improvement in the child's attendance, the school will involve the LA's Education Welfare Officer, who monitors all absences on a weekly basis.
If your child is to attend medical or dental appointments, please inform your child's teacher in advance in writing or by producing an appointment card.
Absence for family holidays in school time
The LA and School cannot condone pupils taking holidays in school time. Holidays will not be authorised and school will follow the LA guidance: a fixed penalty fine is likely to be issued.