News & Calendar Of Events

Welcome to our news and events section. In this section you can find out what's going on around the school and keep up-to-date with our upcoming events. By clicking the appropriate button on the navigation bar to the left, you can find our school calendar, and many other articles and information about our school.
If you would like to see our latest sports news please click here.
We hope you find the information that you are looking for but if not, please contact us.
Easter Bingo Event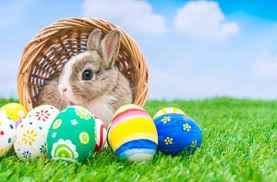 Friday 3rd April at 1.30pm
In the school hall
Eyes down for 6 Bingo games. Line, Full House and Tie Break prizes available!
A chance for a full house in our traditional speed round to win a special
Easter 'Quickie' hamper.
Even more chances to win with Raffle and Spot the Ball Prizes on offer!
Our Early Years and Key Stage One children will parade their Easter Bonnets at around 2pm with a prize for each entry!
Our Key Stage Two children can enter our Egg Decorating Competition with a prize for First Place and Runner up for each year group.
Tea, Coffee, Juice, Biscuits and Cakes available at our Refreshment Counter.
If you can help before, during or after this event please let the school know!
Little Library Club Nursery/Reception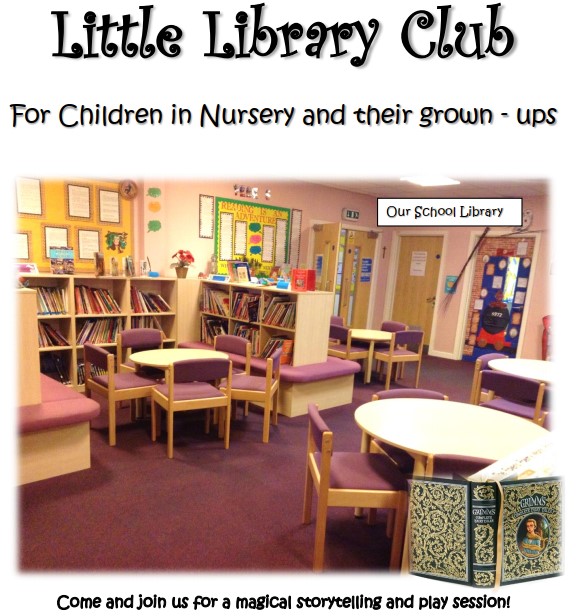 The Little Library Club is for Nursery and Reception pupils and their parents or carers.
• Visit our amazing school library.
• Share quality time with your child.
• Ask questions.
• Meet other families.
Sessions are running 9.00-9.30 or 12.30 – 13.00 on
Weds 11th March
Weds 1st April
Weds 29th April
Weds 10th June
Weds 1st July
Your PTA needs you !

Year 6 - Making Nutrient Bonds

Year 6 have been looking at how nutrients are absorbed and broken down in the body. They used carrot sticks and jelly beans to make different nutrient bonds including fat molecules, protein molecules and sugar molecules. Using these, they demonstrated how molecules are broken down. Click here for pictures.
Year 6 Celebrating other religions - Judaism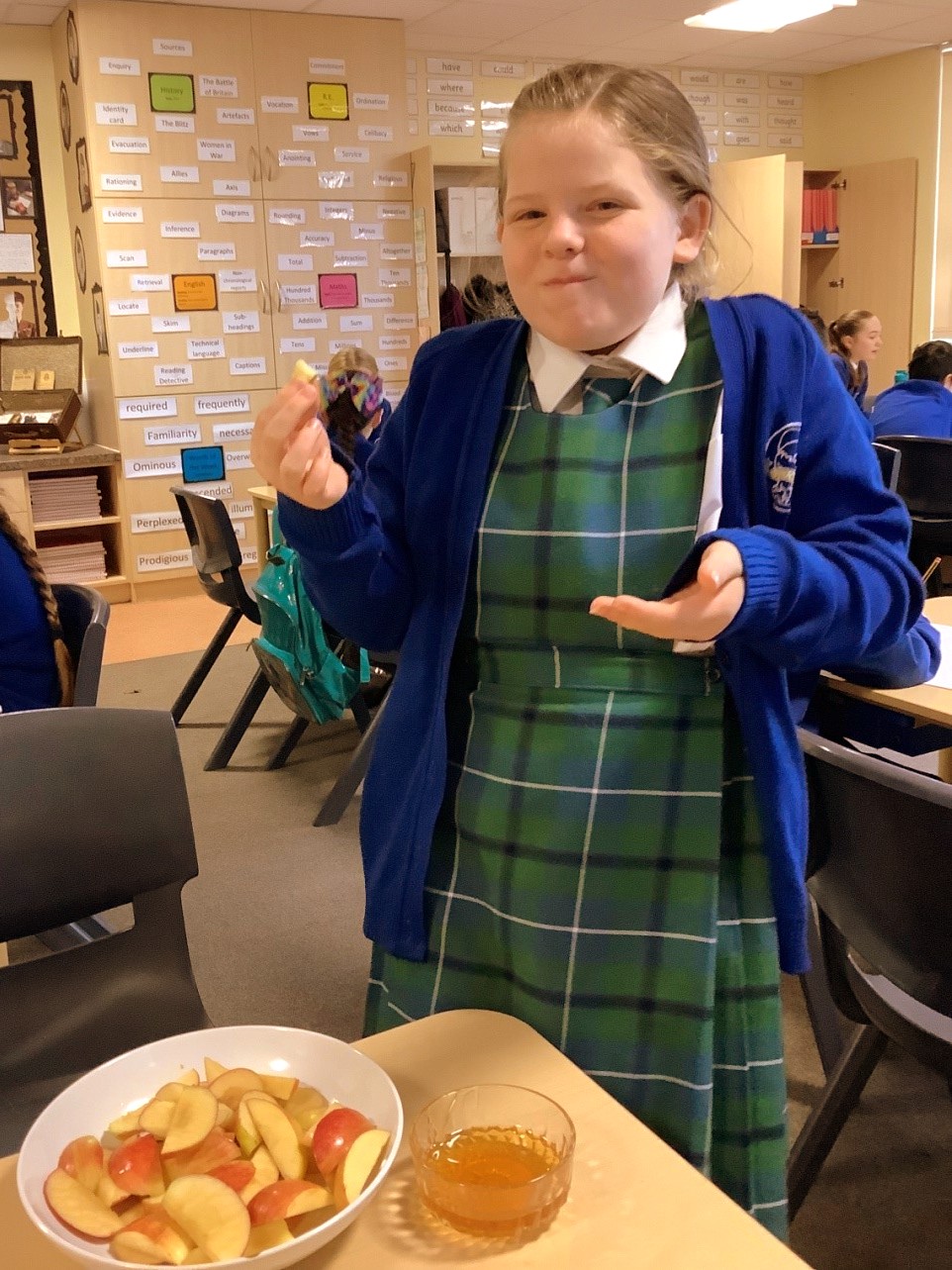 Year 6 explored some of the foods eaten to celebrate the Jewish New Year as part of our Judaism topic. We tasted apples dipped in honey which symbolised the beginning of a sweet new year. Many of us enjoyed the taste! Click here for more pictures.
Year 6 - Art - World War 2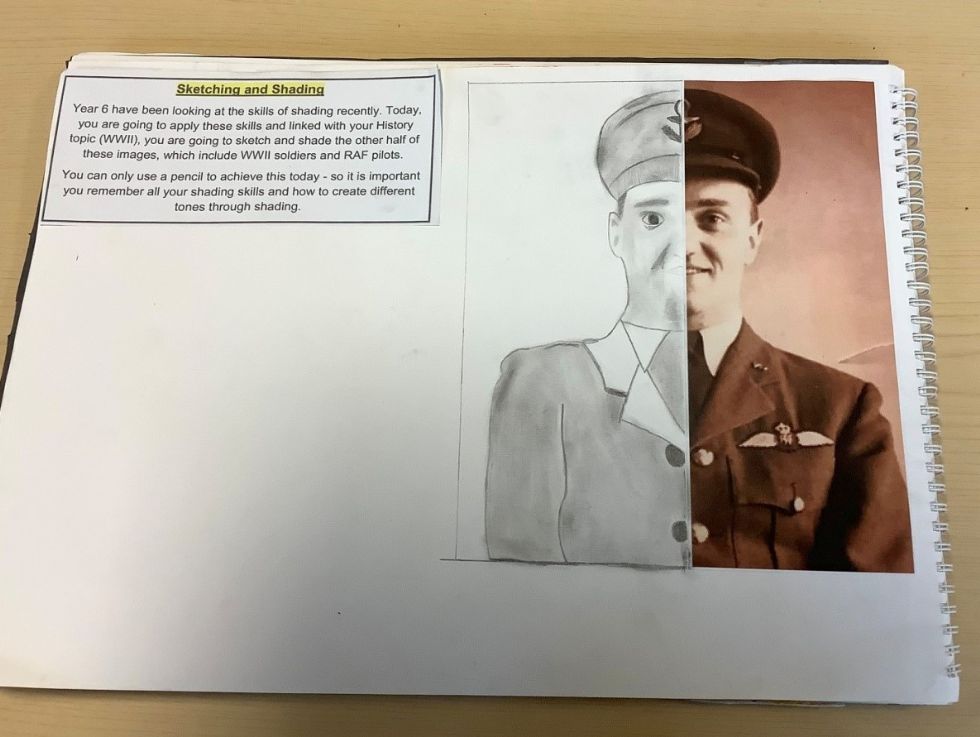 Year 6 have been combining their WWII knowledge with their drawing and shading techniques learnt in art. The children drew and shaded the other half of WWII soldiers and created some fantastic art pieces! Please click here to see more pieces.
Year 5 - Science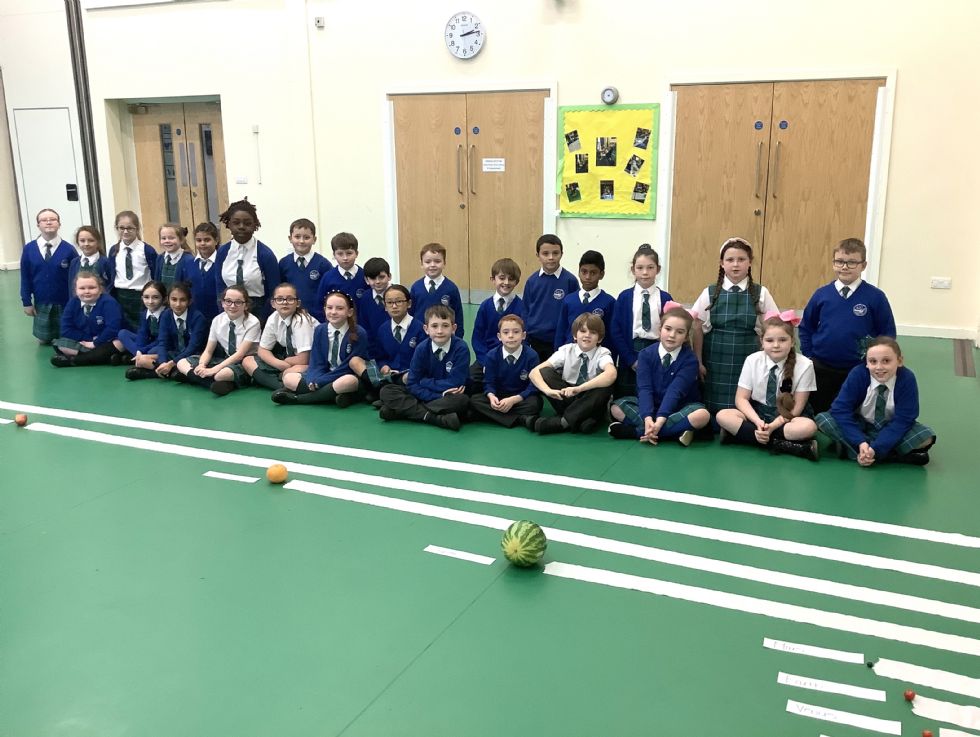 Year 5 enjoyed creating a fruity solar system to compare the size of the planets to one another and represent the distance away from the Sun. Children then took part in becoming the planet in the solar system and orbiting around the sun. Click here for more pictures.
Year 4 - Roman Mosaics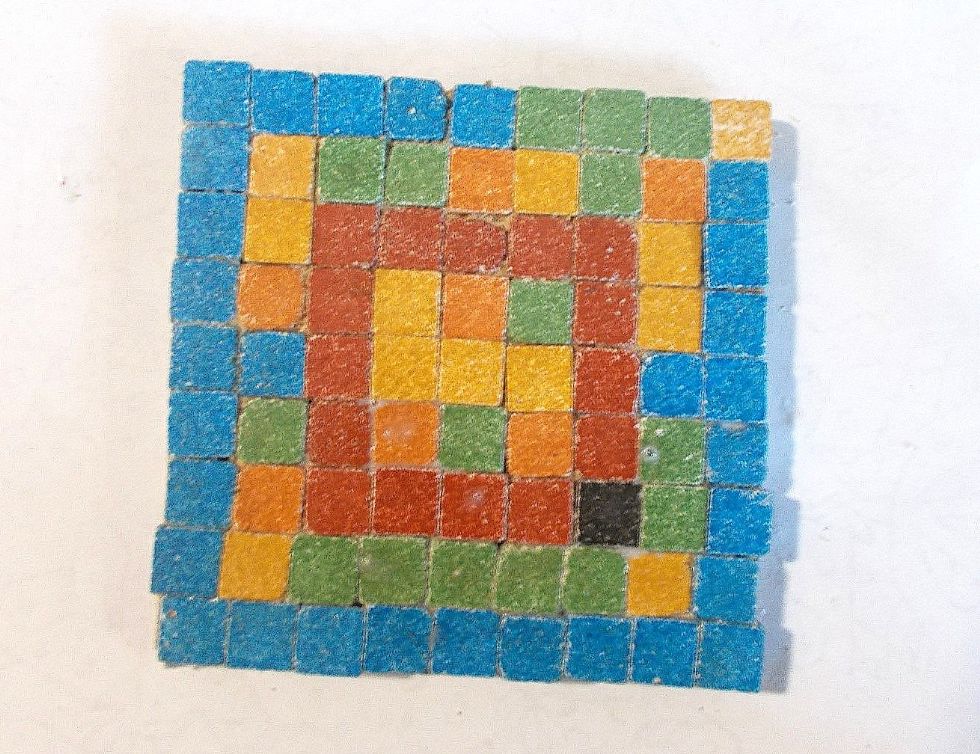 As part of their history topic, Year 4 have taken inspiration from the Romans and created their own mosaics. Click here for a few of their creations.
Reading Ambassadors
We have 10 reading ambassadors this year.
Two pupils from Y3, four from Y4, two from Y5 and two pupils from Y6.
Year 4 Electric Christmas Cards
Year 5 - Shakespeare Performance Review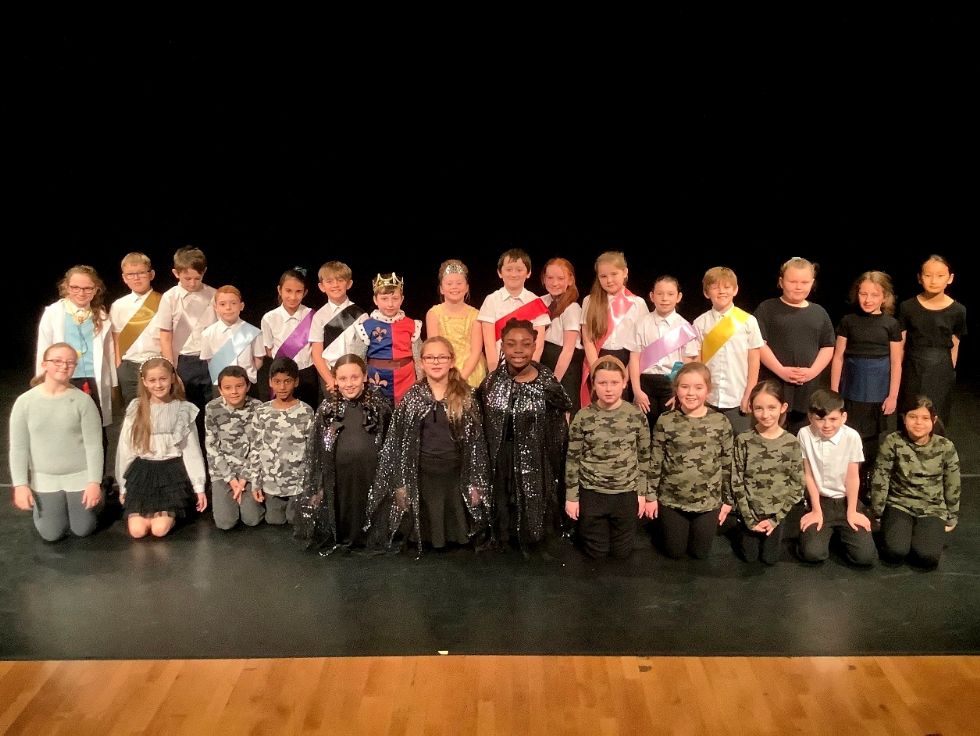 As a follow up to Year 5's successful performance of Macbeth and Romeo and Juliet, at the Capstone theatre they received two lovely reviews of their performances.
Autumn Attendance Awards
KS2 - Resonate Christmas Concert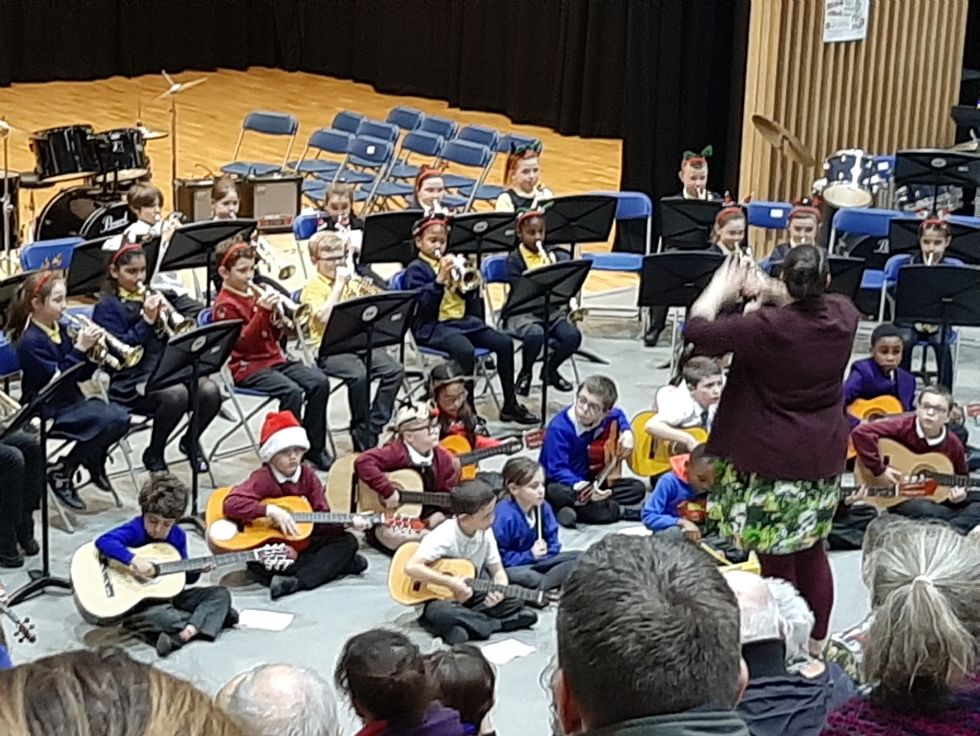 Just before Christmas, our Key Stage 2 pupils in years 4, 5 and 6 travelled the short distance to Notre Dame for the Resonate Christmas Concert. Our musical groups, our choir, guitars, and even cello performed choir performed in front of the many parents and guests who came along to see them perform.
It was great to see our young children perform with such energy at a public performance, click here to see some more photographs.
All Years - Sleeping Beauty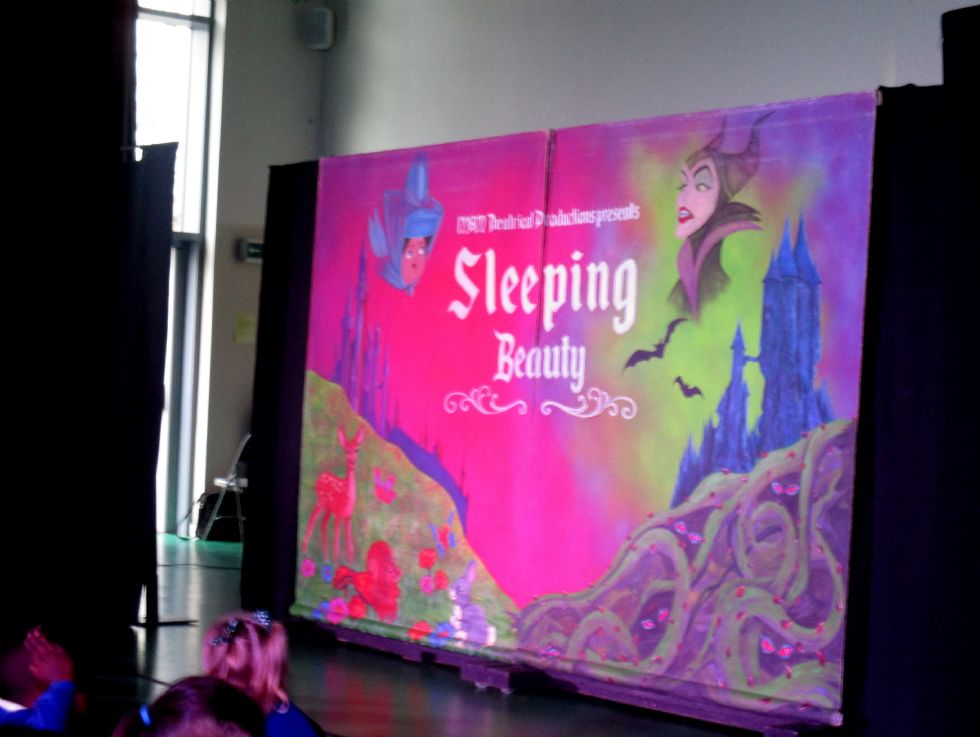 Christmas is getting closer. Santa and the elves are working hard for the big day, but elsewhere in a Kingdom far far away, lies a sleeping princess......
Year 5 - Shakespeare Performance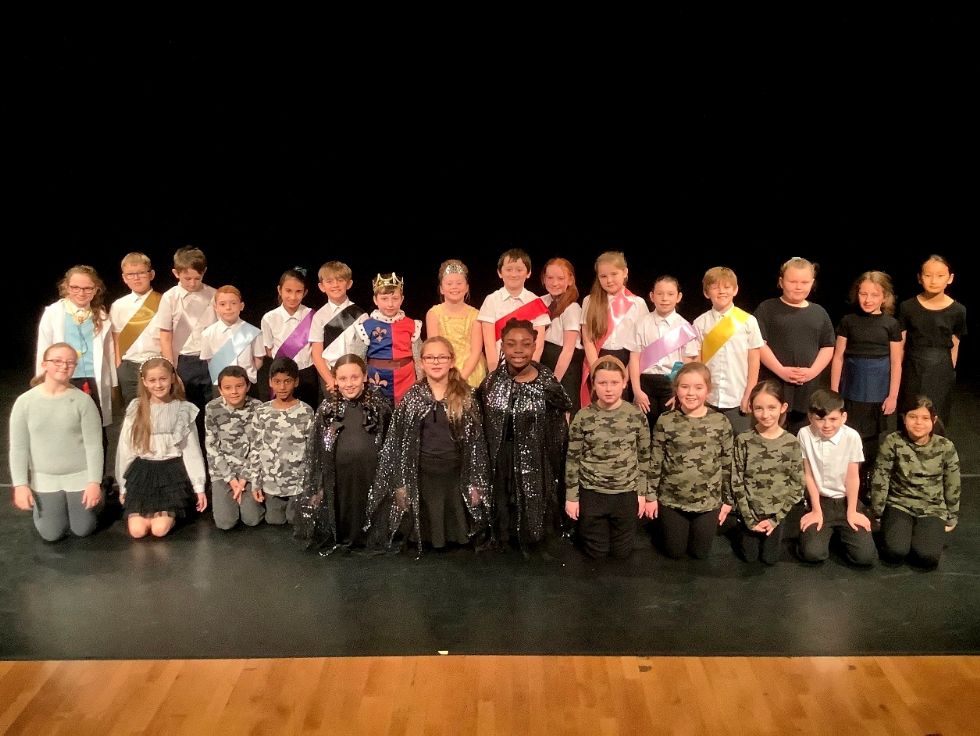 Everton versus Norwich City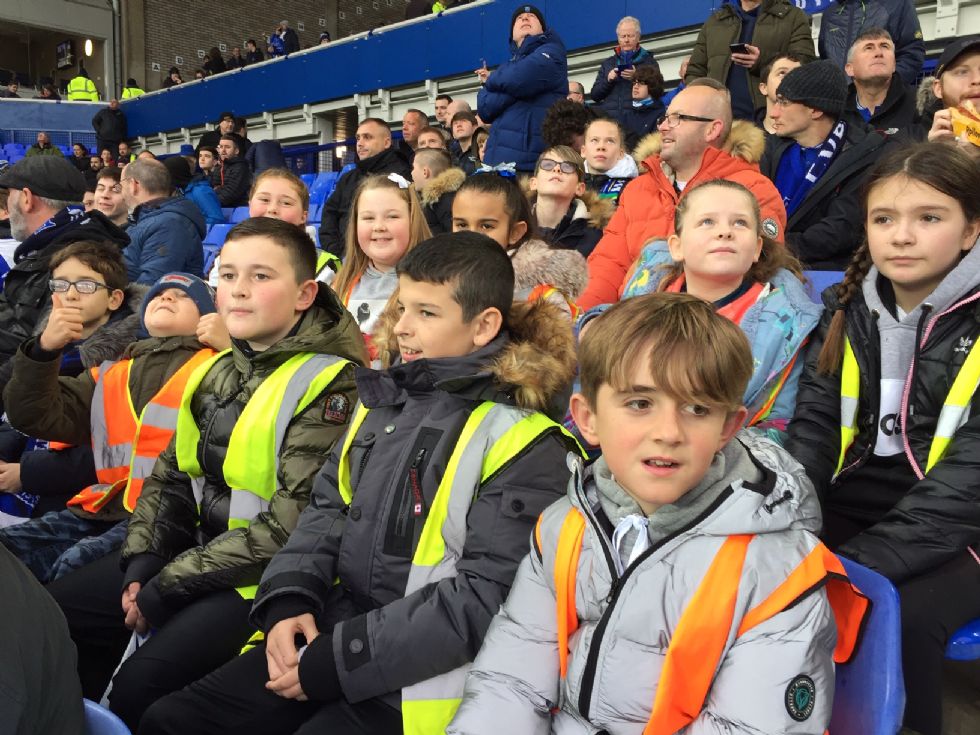 As a reward for good behaviour ten St John's Everton fans went to see Everton play Norwich City, they really enjoyed the atmosphere. After a confident start Everton could not break through, with 18 shots on goal, and 7 on target.
Y4 - History - Edible Roman Roads

To help Year 4 understand exactly how the Romans constructed roads, they used edible materials to make their own Roman road.
Possibly solving both transport problems and what to have for lunch, if you would like to see what Year 4's Roman road tasted like, please click here.
Y2 - Museum of Liverpool and Mersey Ferry Trip

Year 2 loved the trip on the Ferry, they saw the Liverpool landmarks and being on the boat was fun.
All Years - St John's Remembrance Assembly
St John's whole school Remembrance Assembly. Click here for photographs.
Year 5 - Making props for Shakespeare performance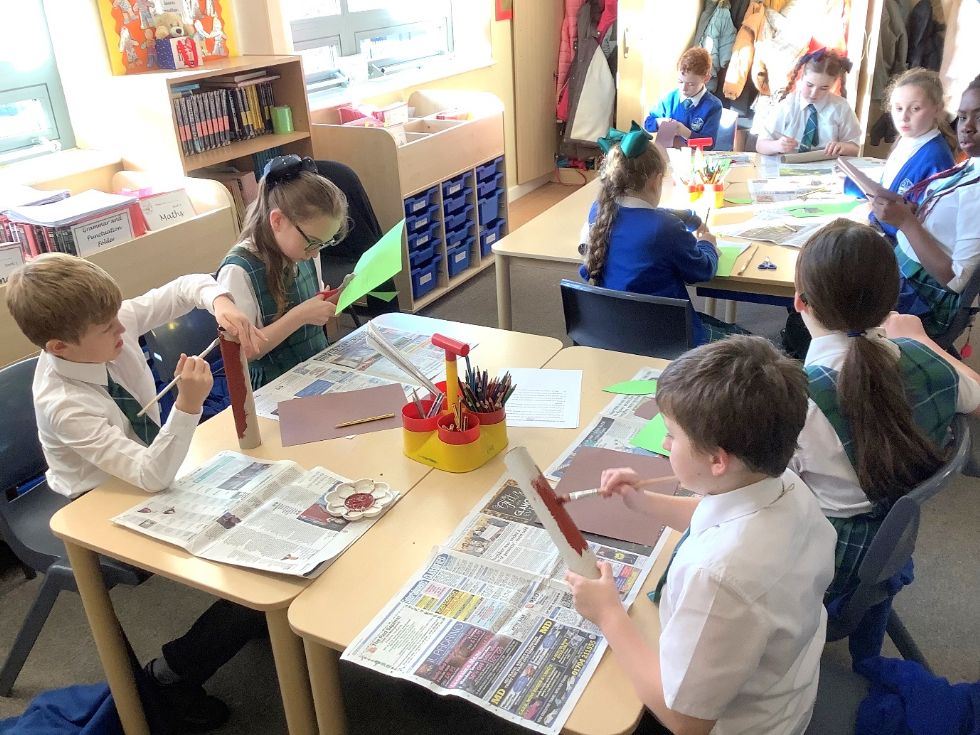 5MC have enjoyed making props for their upcoming performance of Shakespeare's Scottish play in the Capstone theatre in the next few days.
Everyone has worked extremely hard and are very excited for the show! We wish them every success. Click here for the pictures.
Year 5 - Children in Need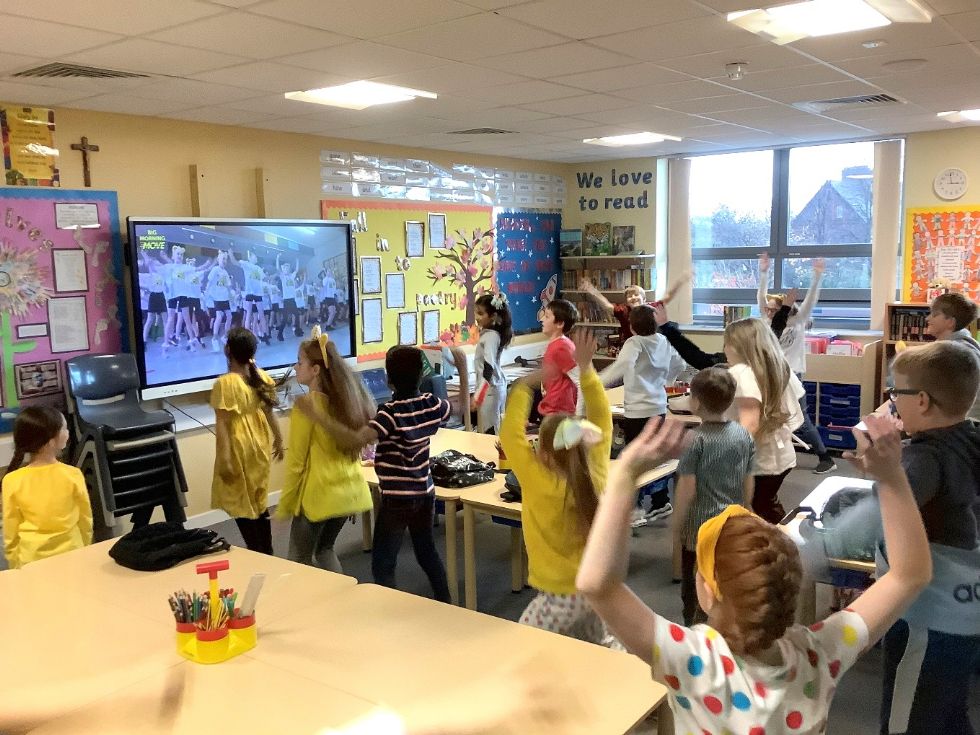 Year 4 - Digestive System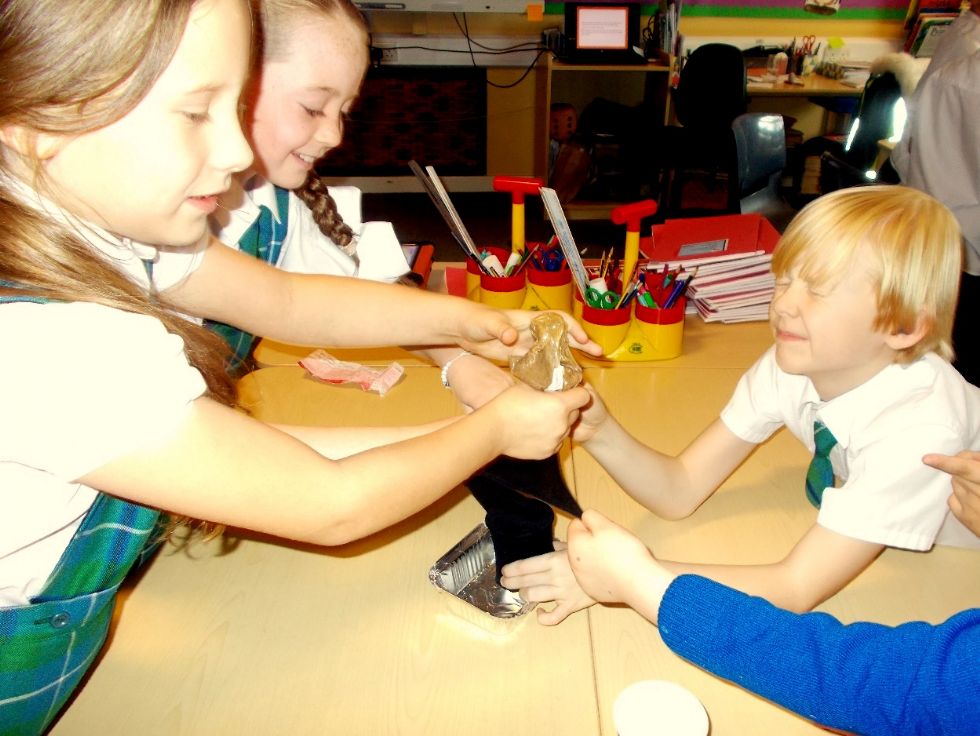 Year 4 have ingeniously recreated the human digestive system, from start to finish.
If you would like to check out the in's and out's of what they did, please click here.
Year 4 - Trip to the Roman Dewa Experience in Chester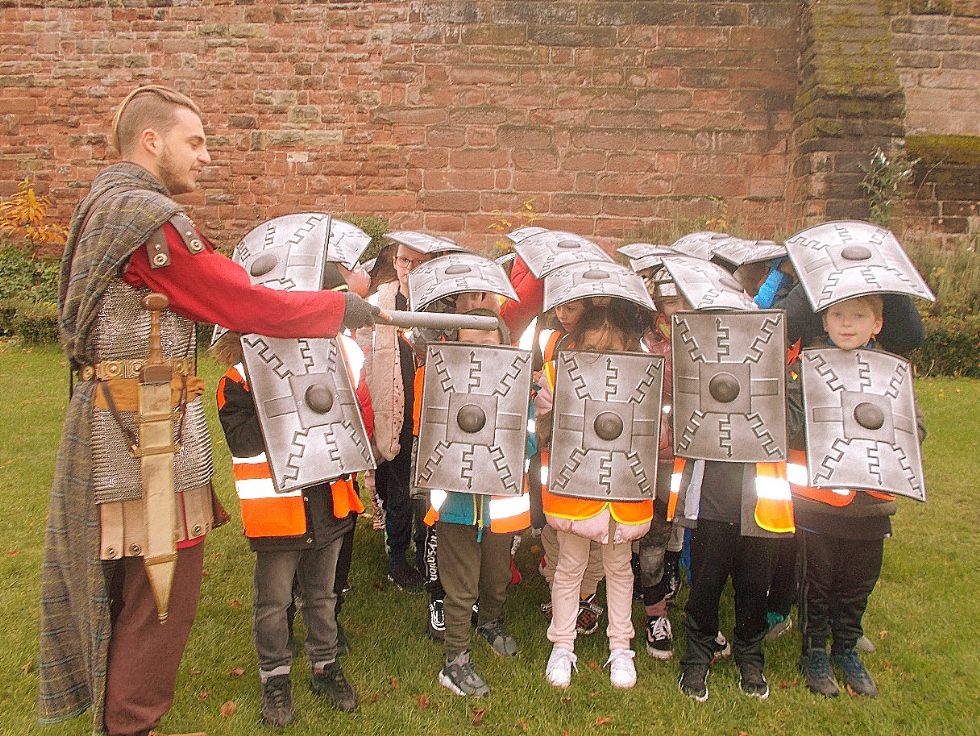 Year 4 went to Chester to the Dewa Roman Experience to look at the ruins of buildings left from the Romans. They learnt about why the Roman army were so successful in battle, discovered things that the Romans introduced into Britain and the impact that these had. Click here to see the pictures.
Year 3 - Performance Poetry

Year 3 - Instructions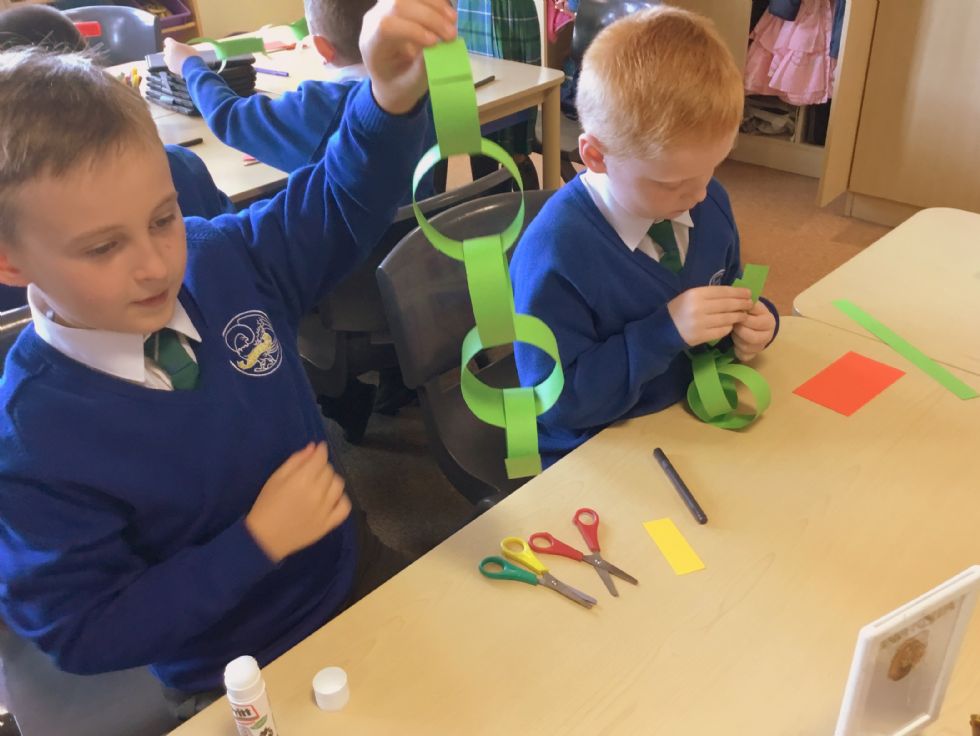 After listening to their teacher read the instructions, they understood the importance of how detailed instructions must be.
After gathering the equipment, and listening very carefully they helped each other to create very hungry caterpillars.
Year 3 - History

Year 4 - Glockenspiel Orchestra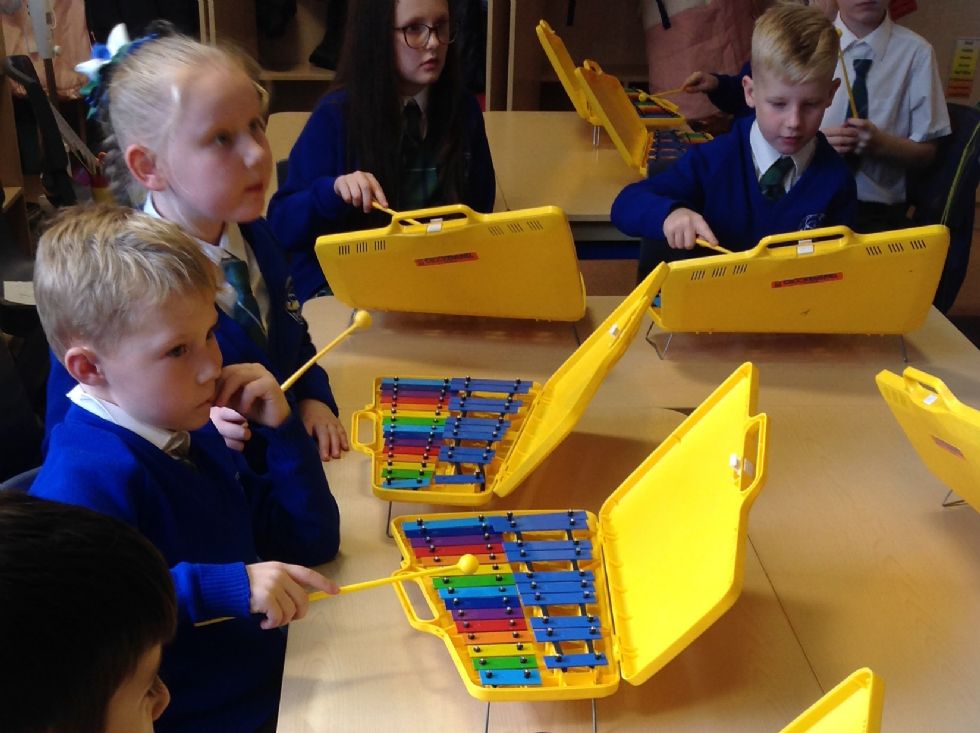 Mr Menezes leads Year 4's weekly music group. Click here to see Year 4's glockenspiel sessions.
Year 1 - Science Topic - Seasonal Change - Autumn Walk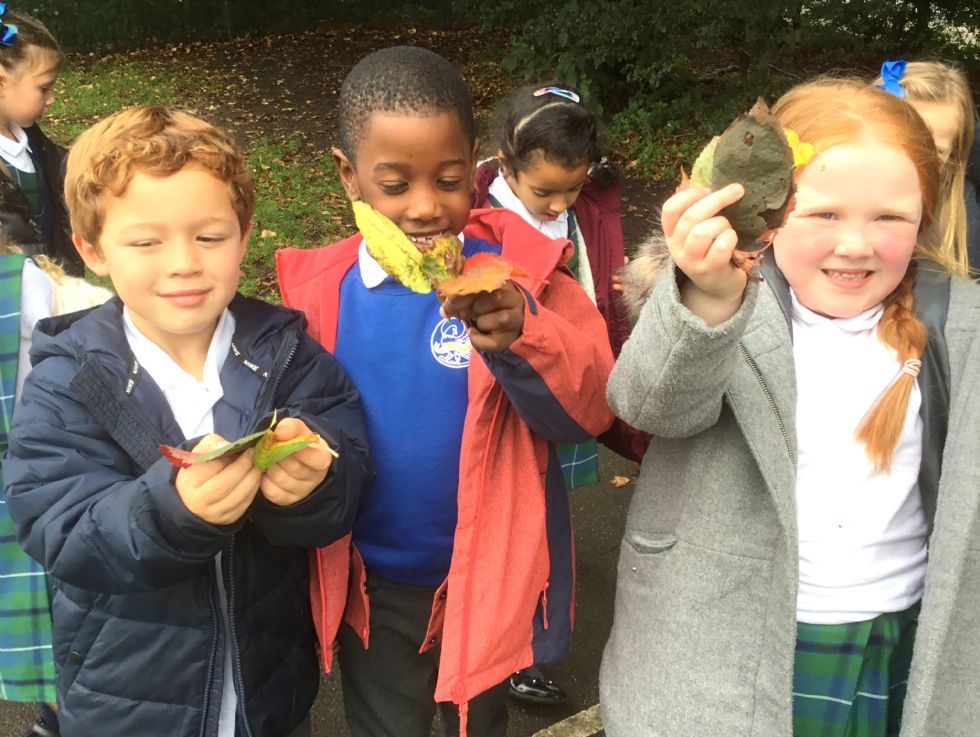 As part of our ongoing Science topic 'Seasonal change 'we took Year One on an autumn hunt. We recorded signs of autumn on our check list, used our senses to gather information and collected some autumn treasure. The children enjoyed collecting conkers, leaves, leaf rubbings, and collected various leaves from different trees. They also linked this experience to our weekly class story We're Going on a Leaf Hunt'. Please click here for the pictures.
Year 1 Science Workshop for Pupils and Parents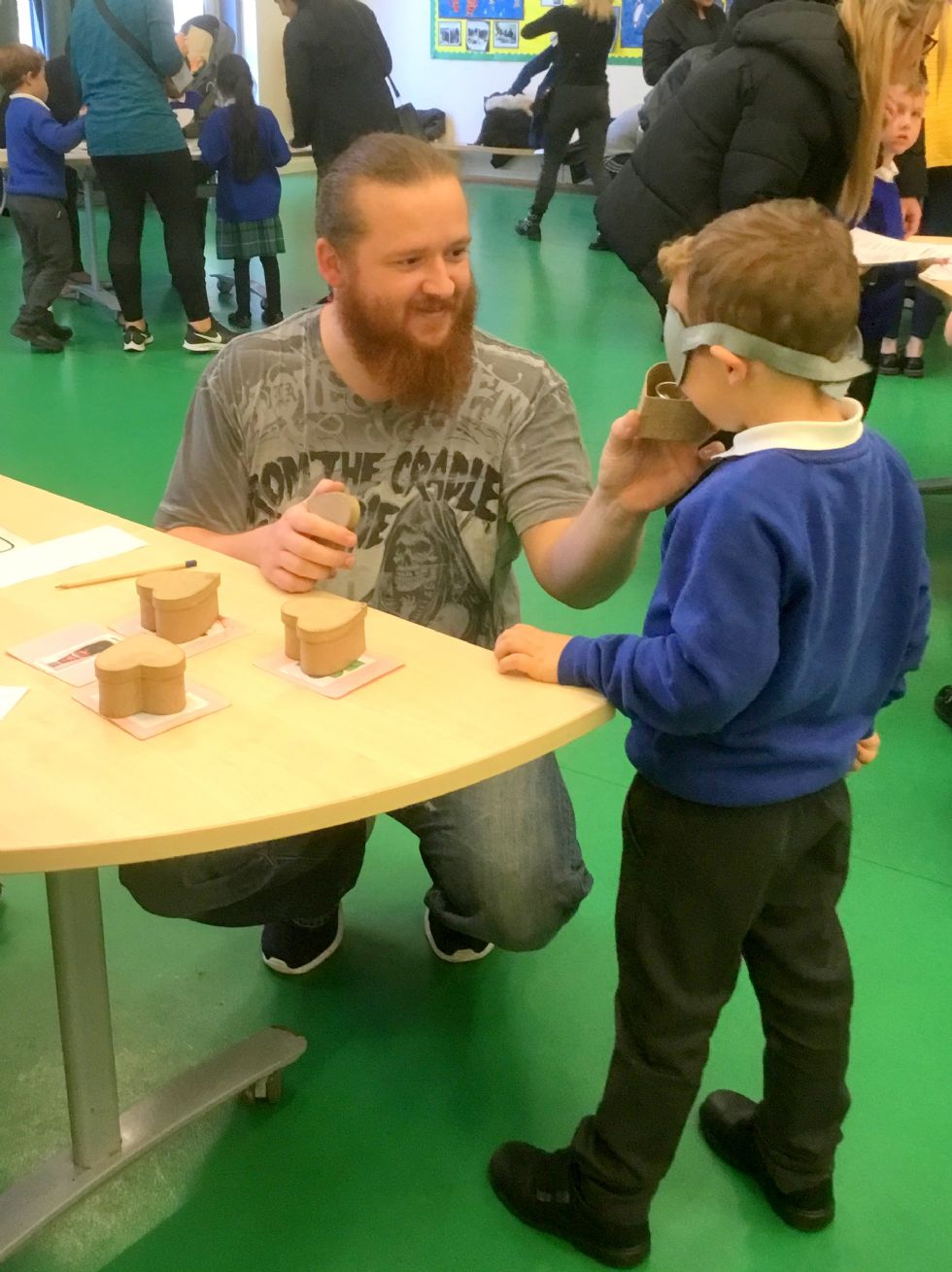 In collaboration with Adult learning Services and Family Learning, Year 1 ran a Science workshop for children and parents, carers and grandparents. They explored exciting science activities such as floating and sinking, magnets, labelling plants, the body and the senses and even tried out the feely bags and smelly pots.
Year 5 - Capstone Theatre - Shakespeare Rehearsal Workshop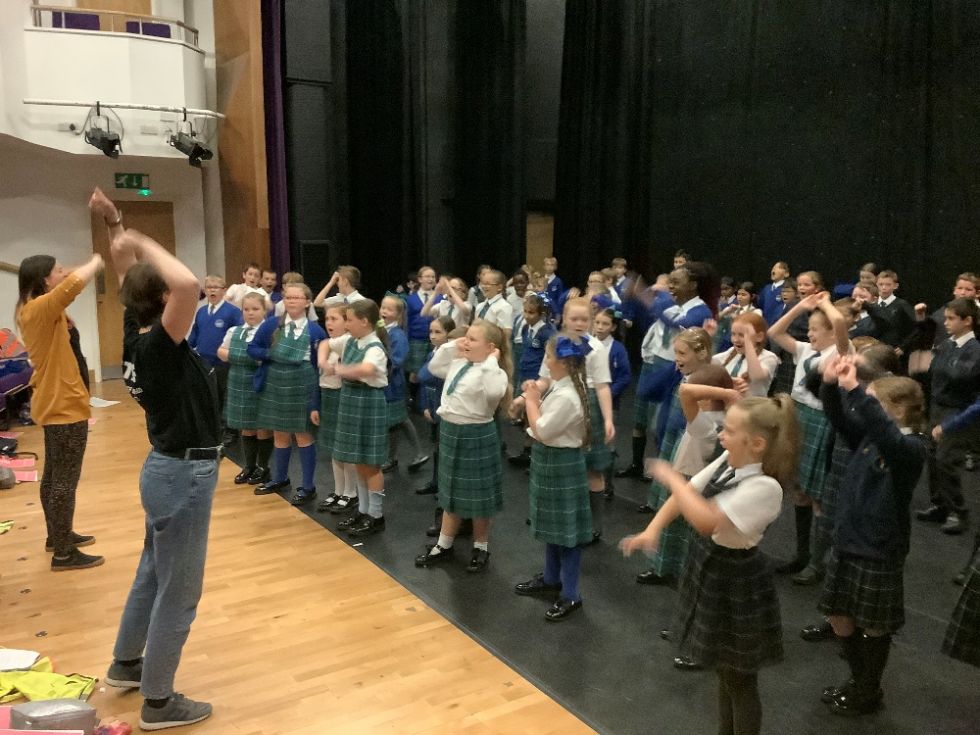 Year 6 - Residential Trip to Winmarleigh Hall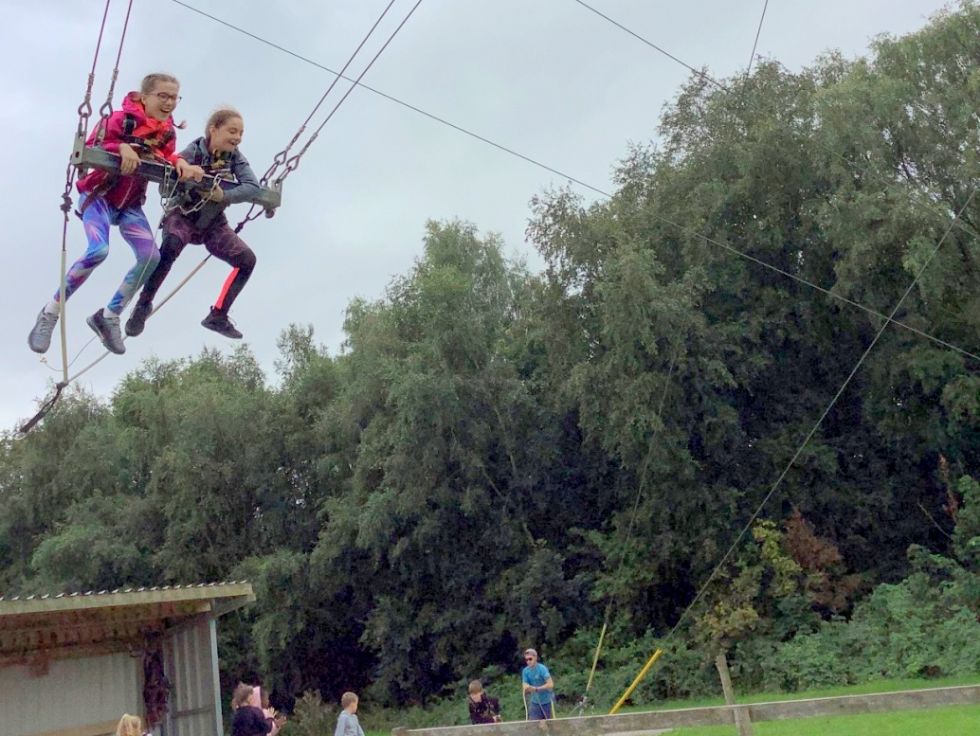 If you would like to see pictures from Year 6's residential trip to Winmarleigh Hall and the many exciting things they got up to, click here for the photo gallery.
LFC vs Norwich City 19/20

St John's has once again been invited by Liverpool Football Club into its schools fan initiative with free tickets for pupils as a reward for excellence. The first set of tickets were for Liverpool vs Norwich, the first game of the premier league season. We were invited to the ground early to welcome both sets of players. While there the children also met John Barnes and Margaret Aspinall, and Mighty Red, who all interacted with the pupils, sharing a joke and having a bit of fun. The final score was Liverpool 4, Norwich City 1, a great start to the season. For more pictures and information please click here.
Year 2 - Trip to Windmill Farm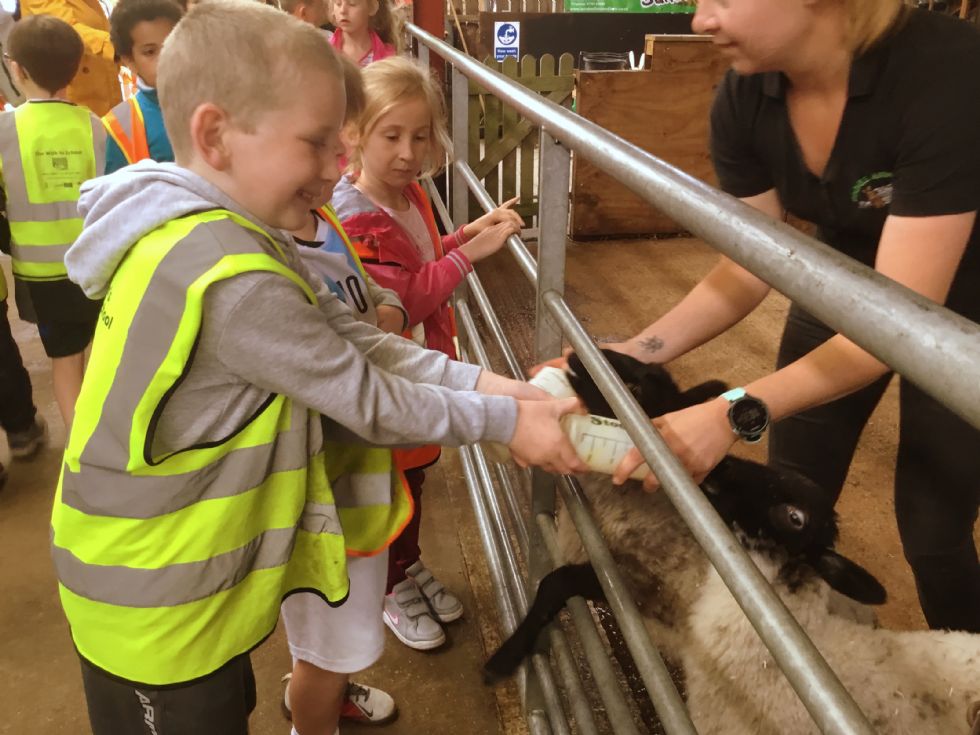 Year 2 enjoyed a wonderful trip to Windmill Farm in Burscough. We had so much fun, lots of us said it was our favourite trip ever! We went on a steam train, enjoyed the many adventure playgrounds and we got to see lots of cute animals.
We were super brave and even fed some of the animals, we particularly enjoyed feeding the llamas and giving the lamb its bottle of milk. Despite some rain, we had a fantastic day and didn't let it dampen our spirits!
Year 5 Knowsley Safari Park

Year 5 had a fun filled day at Knowsley Safari Park for their end of year trip. Children had a good view of the animals on a tour around the safari with a guide to tell them all about the animals and their habitats.
They enjoyed a workshop based on animals in the rain forest (where they had the opportunity to feel different exotic animals), watched the sea lion show and endured the bat cave - there were lots of screams!
Everyone had a fantastic day!
Click here for a few more pictures.
Year 5 Go Eco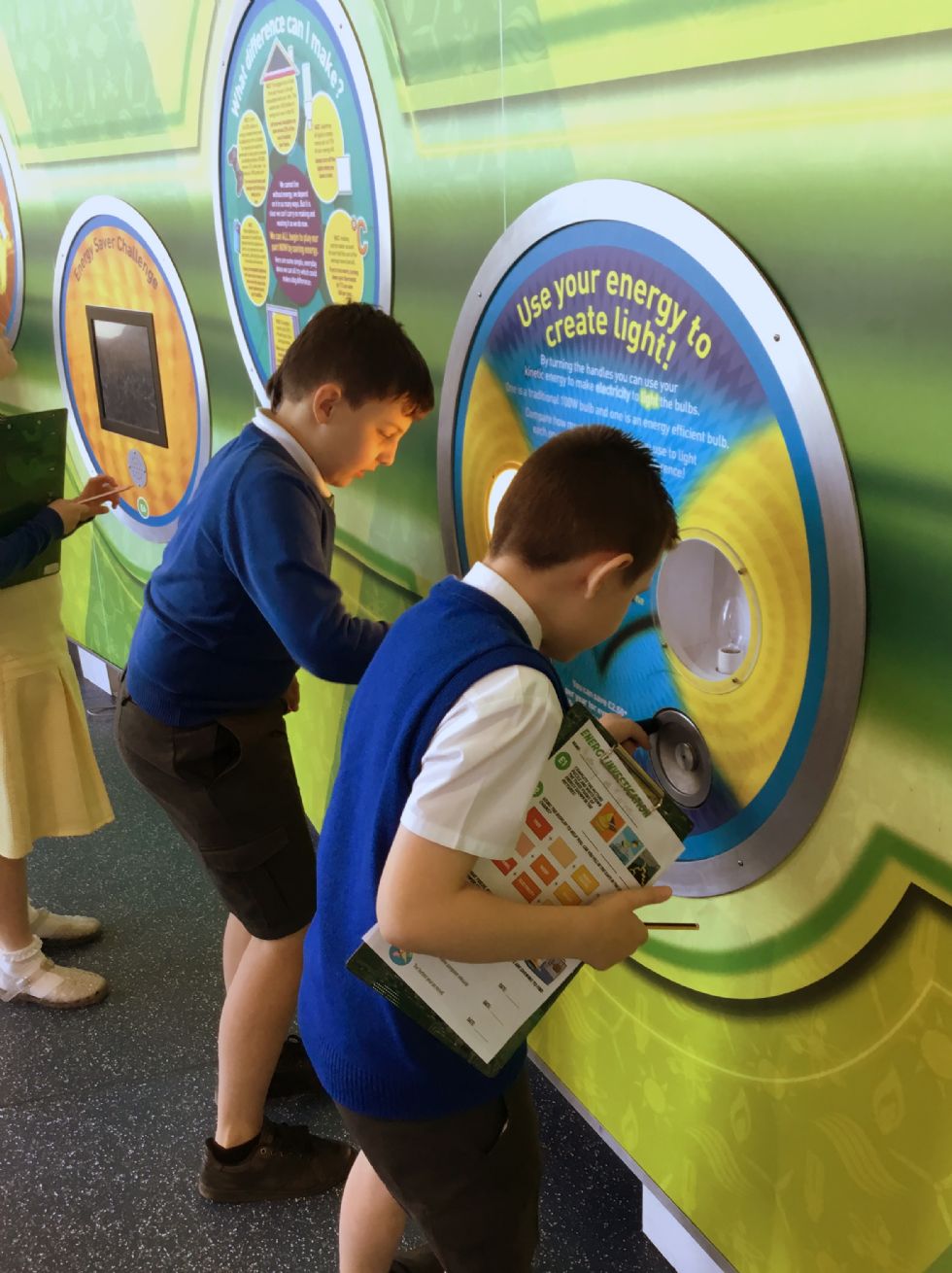 Year 5 went on a trip to the Southport Eco Centre, which linked in with their Geography and Sciences topics.
They learned about energy choices and what they could do to protect our planet. The children created a solar powered wind turbine and tested it outside.
They also took part in an energy investigation - exploring how much our waste costs and how they could reduce this.
Click here to find out more and see some pictures.

LFC Ticket Draw 2019/20 Season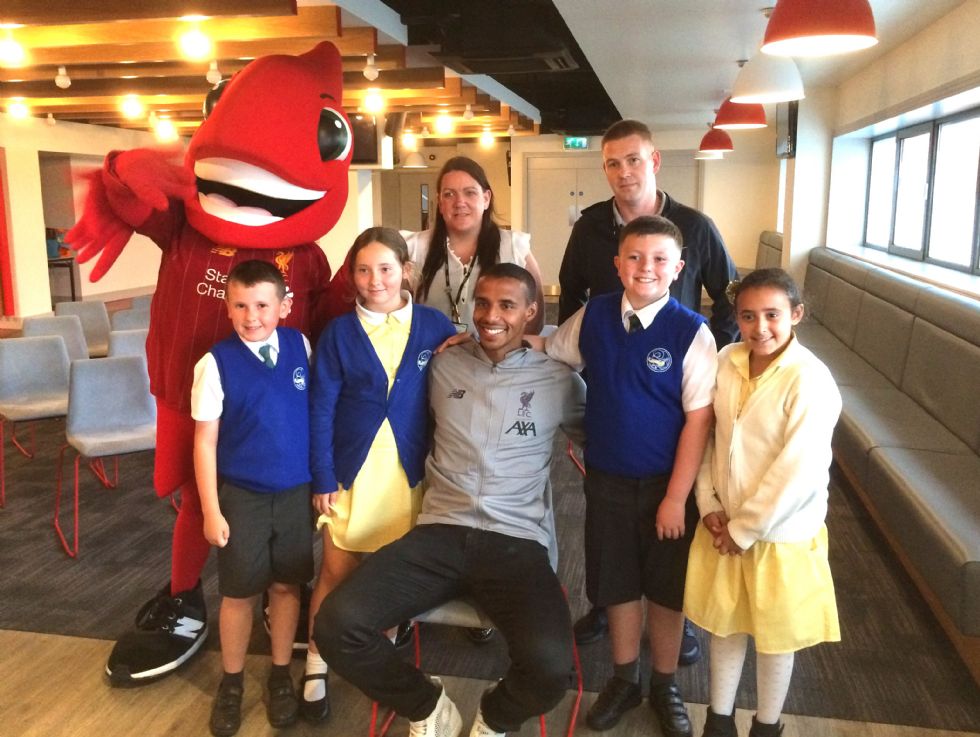 Year 4 - Legoland

Year 4 attended a trip to Lego Land Discovery Centre Manchester this week. Here, we took part in a workshop which included using some of our Science and Design technology skills.
Afterwards, we had lots of fun building Lego structures, building cars and testing them on ramps, driving go karts, climbing on the climbing wall, watching a 4d movie, funfair rides and much more!!
We all had a brilliant day and even got a Lego toy to take home with us. Click here for the photos.
Year 6 - Inflatable Sports Activities

Activity for All came to our school and set up two inflatable sport activities: a basketball shootout and penalty shootout. The children thoroughly enjoyed this and showed their ability to work together as a team. They all challenged themselves to score top points and impressed the staff with their football and basketball skills. Afterwards, we had a lovely picnic! Click here for the photos.
Year 6 - Bubbles World of Fun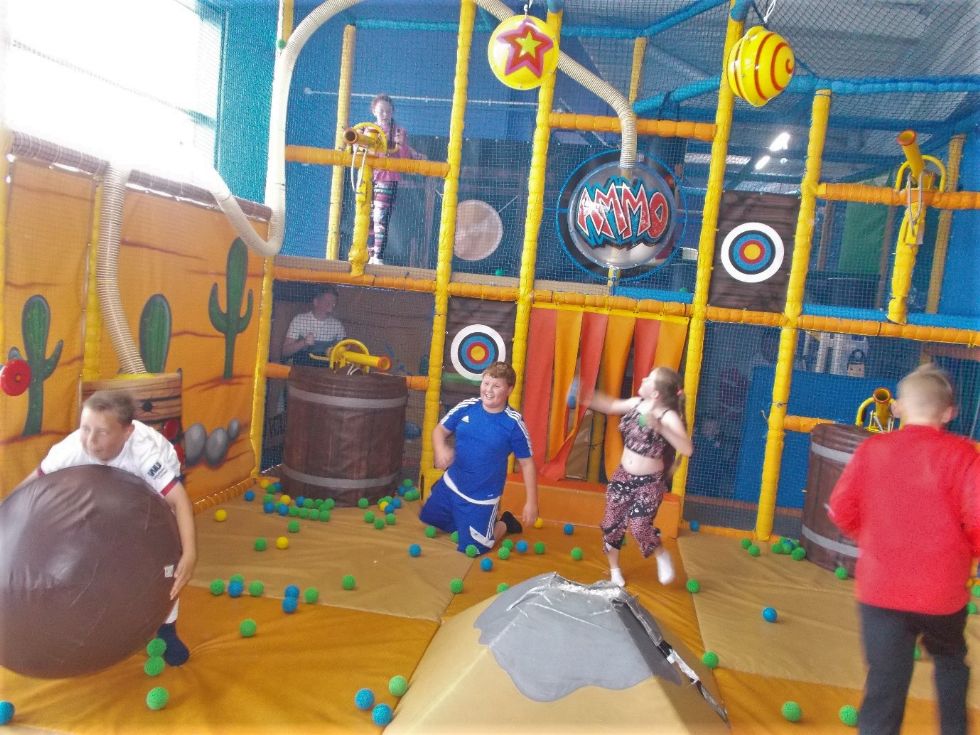 The children visited Bubbles World of Play for some adventure and fun to finish off activity week. They enjoyed the indoor play area and had endless energy to explore all day!
As they have done all week, the children represented the school fantastically and made their teachers very proud. Click here the photos.
Year 6 - Go Ape/Delamere Forest

Year 6 - R.E Retreat

The Book Bus

We recently had an exciting visit from the book bus. The children all had the opportunity to visit the bus and look at the wide range of books for sale. Many parents visited with their children before and after school and purchased lovely books for their children.
If you would like to look at the wide range of books on offer from The Book People please click this link to their website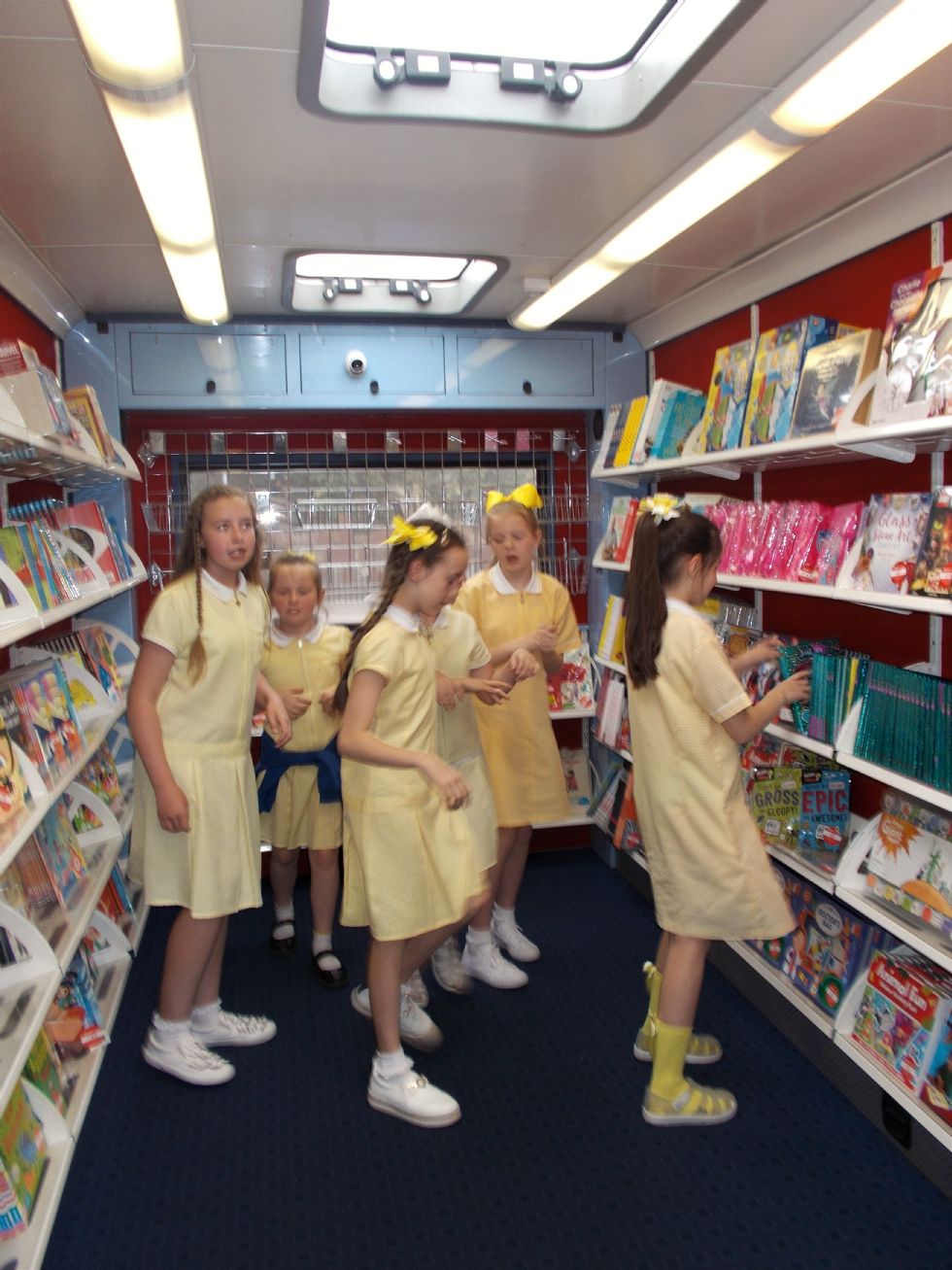 If you would like to find out more about reading at St John's click here to go to our curriculum subject area.

Y6 Viking Day at Lunt Meadows

Class 6McS visited Lunt Meadows for a day of outdoor learning related to Viking. The children left with a real understanding of what it was like to be a Viking. They took part in a range of activites they watched Viking re-enactments, dressing as Vikings, made their own Viking coins and got to toast marshmallows by the campfire!
It was an amazing day for children and staff.
Y3 - Science - Rocks, soil and fossils

Y1 - Trip to Croxteth Hall Farm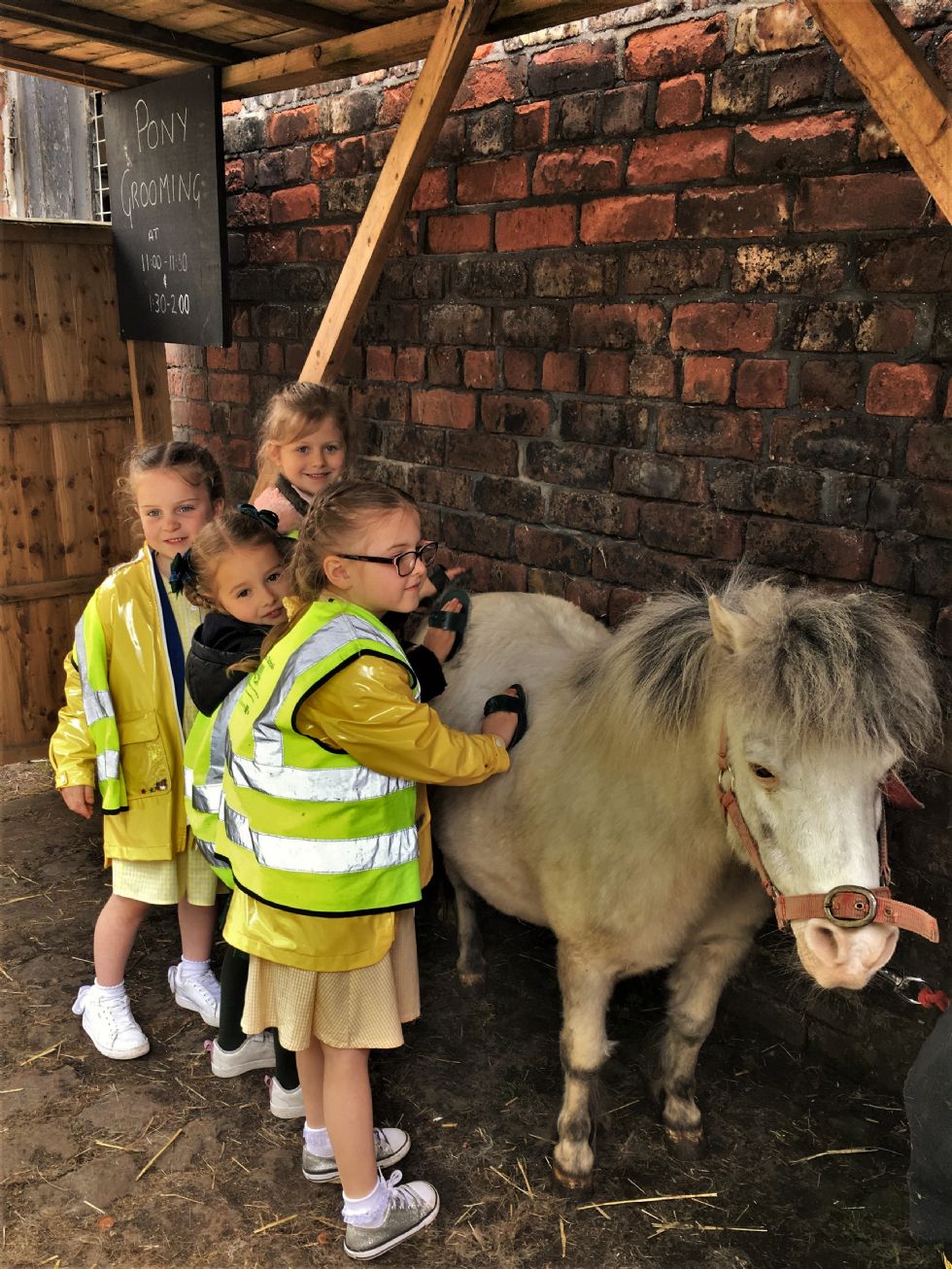 Year 1 had a fantastic day at Croxteth Park Farm. They met donkeys, meerkats and goats and were lucky enough to hold and pet many of the animals around the farm.
Year 1 were very good at finding out information about the animals which linked to our science topic Animals including humans.
To finish our exciting day, we went on a leaf hunt around the park as part of another of our science topics, Plants.

Click here for the pictures.

Y4/5 - Flute Group Live!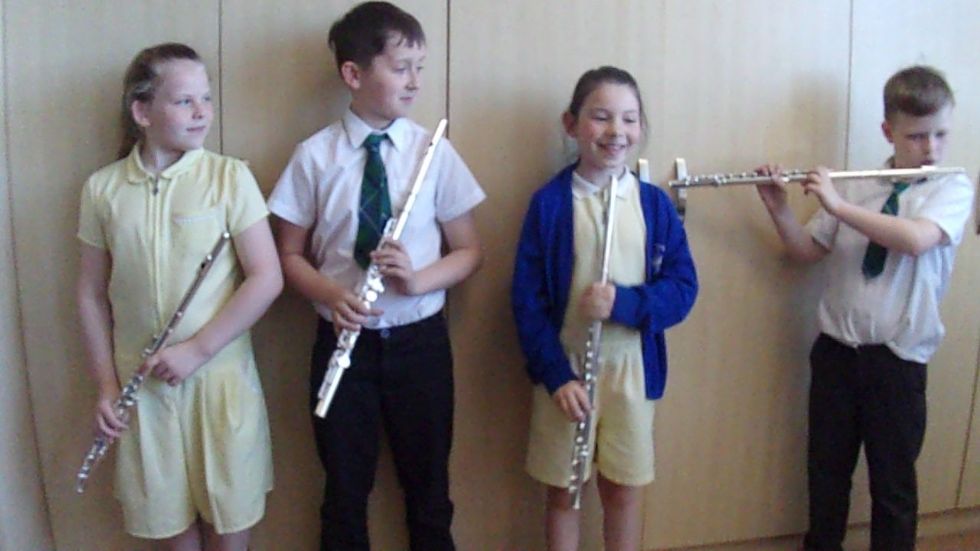 Year 3 - Science - Light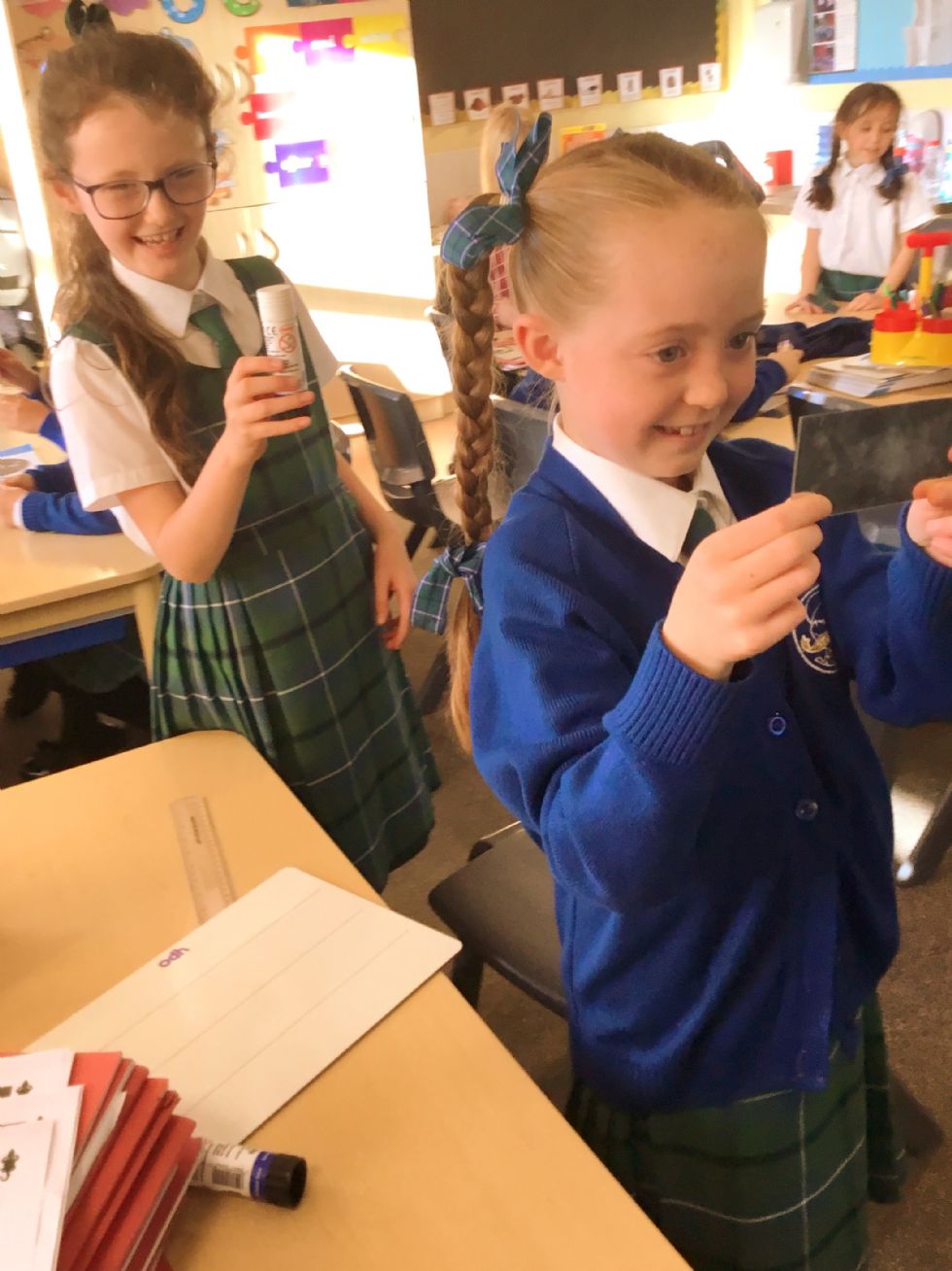 For their science topic Year 3 have been looking at light. How it travels and how shadows are formed. Click here to see how their experiments turned out.
Year 3 - History - The Stone Age

As part of their history topic, Year 3 welcomed John Hill, an archaeologist from University of Liverpool, to St John's this term. He told them about life in Liverpool during the Stone Age and brought the antler from a stone age Great Elk for the children to see.
If you have ever wondered what a stone age Great Elk antler looks like please click here for the pictures.
Suncream and Sunhats

Reception and Nursery staff wanted to remind parents and carers that as the British weather slowly improves could you please provide a sunhat for your child and apply suncream before coming to school (preferably 12 hour lasting cream). Many thanks.

Year 3 - History - Mummification

For their history topic about the Egyptians, Year 3 looked at the mummification process. They created their own mummy, made and decorated a sarcophagus and created their own Egyptian death masks. Click here to see the results.

Year 3 - The Angry Earth

As part of their Geography topic Miss Cartin's Year 3 class looked at how the natural world can be an angry place, looking at how the Earth was formed. To help remember what the layers of the Earth are called they made their own model Earth's out of salt dough. Click here for the pictures.
Year 3 Performance Poetry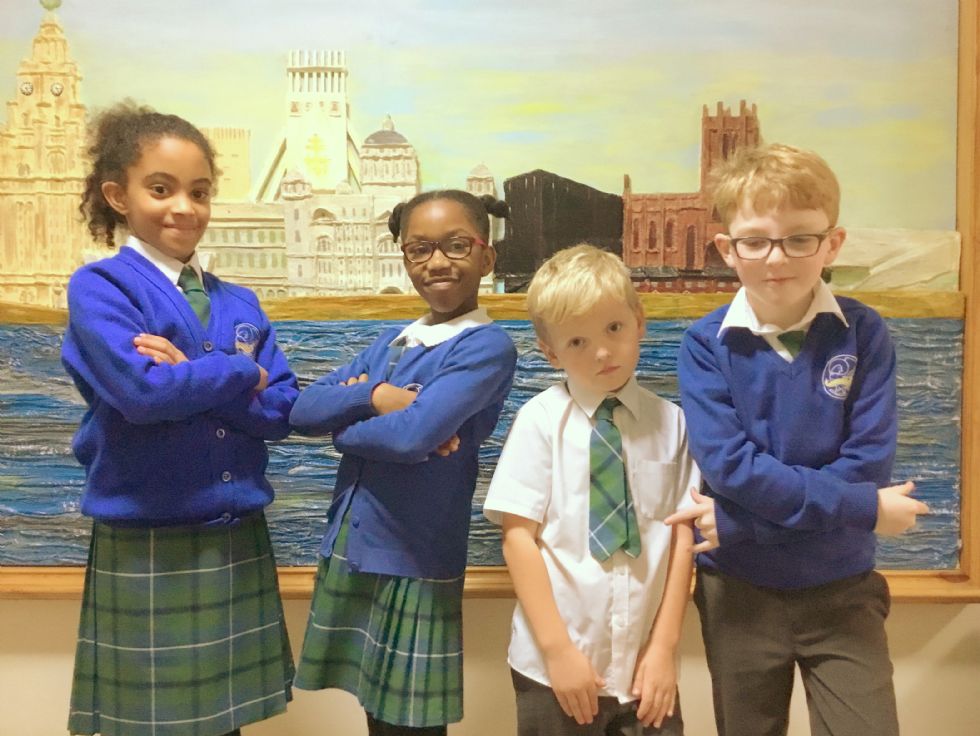 As part of their Poetry topic, Miss Cartin's Year 3 class performed some poetry. To see them in full action, click here.

Liverpool Metropolitan Cathedral Chorister Recruitment 2019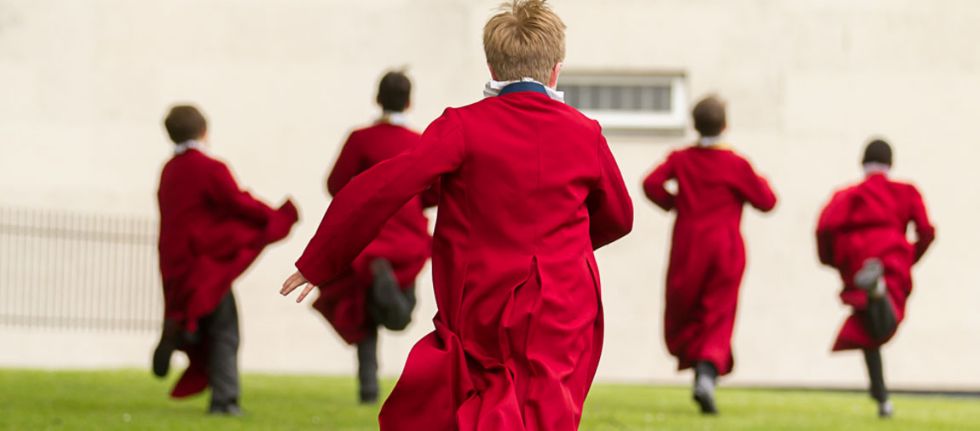 Liverpool Metropolitan Cathedral is looking for new boy and girl choristers. Being a chorister provides children with an exceptional musical training, and allows them to serve the church in a very special way.
The Cathedral Director of Music, Dr Christopher McElroy, invites boys currently in years 2-4, and girls in year 5 to come along and audition.
Voice trials are being held on 18th May (boys) and 25/26th June (girls).
Further information, including details of 'Be a Chorister for a Day' events can be found on the Cathedral website: www.liverpoolmetrocathedral.org.uk/music/joining-the-choirs'
LFC vs Wolves

Several St John's pupils were rewarded with a trip to see Liverpool FC play the last game of the season against Wolverhampton Wanderers. Click here to see how they got on.
Neurodiversity Celebration Week (13th-17th May 2019)
Here at St. John's the children will be learning what it means to be neurodiverse and celebrating the differences neurodiversity brings with it.
Within society, there tends to be negative stereotypes associated to neurological differences such as ADHD, Autistic Spectrum Condition, dyslexia, dyspraxia and Tourettes.
We want to demonstrate to our school community that being neurologically diverse is not a negative thing, it's just a different thing!
We've all got our strengths and talents and these should be celebrated and supported.
Year 1 History - The Great Fire of London/ Crosby Fire Service

As part of Year 1's History topic, The Great Fire of London, they were visited by The Crosby Fire Service. To find out how the visit went, please click here.

Year 1 - Easter Activities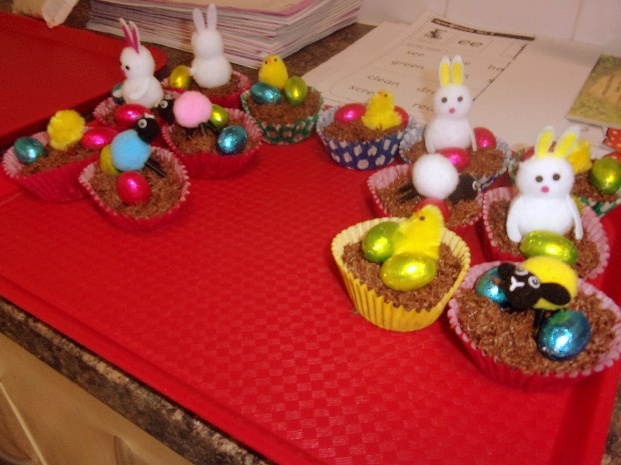 Year 1 have had a fantastic day doing lots of eggciting Easter activities with Miss Leyland and Miss Wright.
They made chocolate nests and Easter baskets in class, had lots of fun while making them. Click here for some pictures.
Year 6 Bowling Treat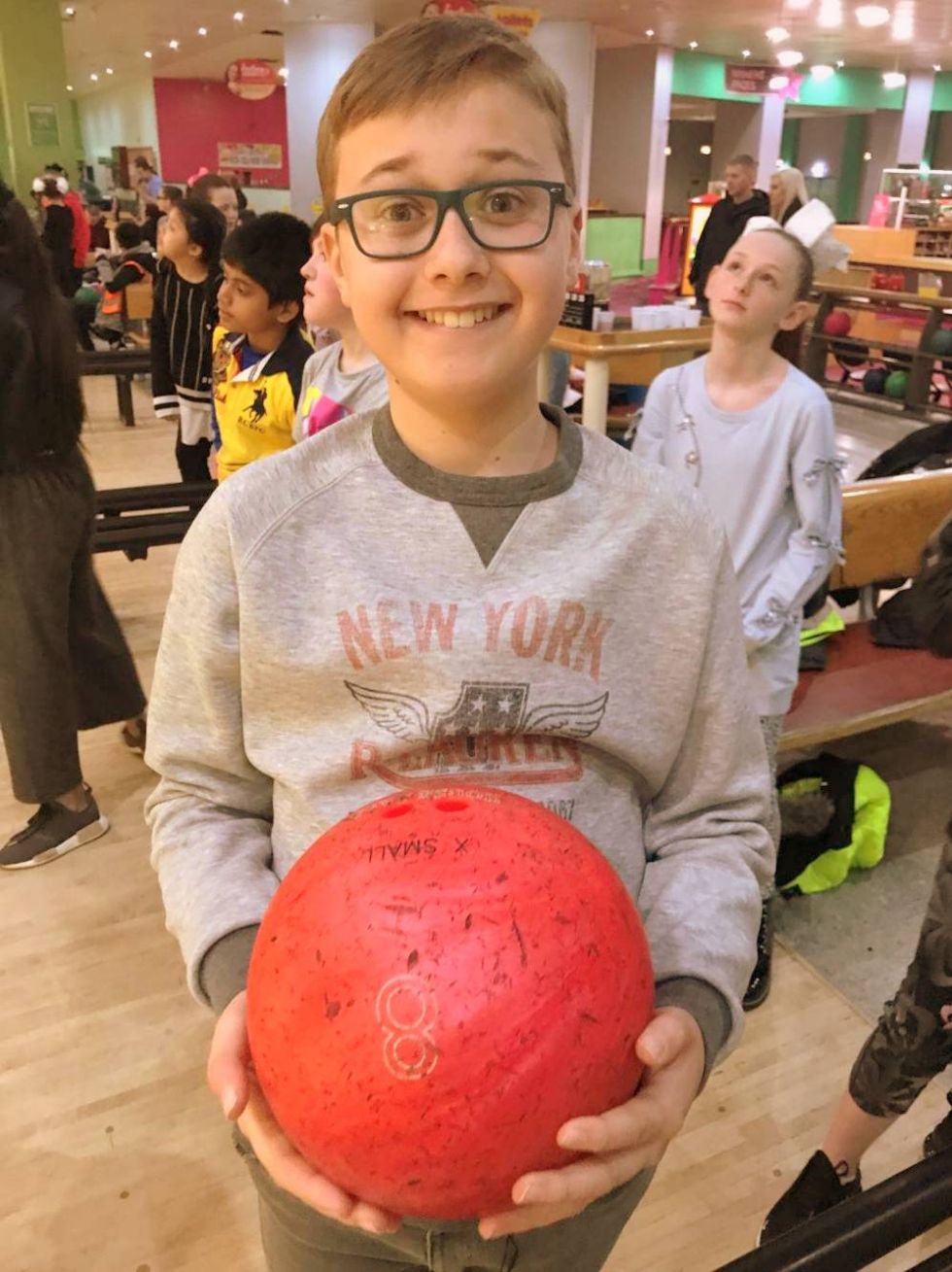 As a result of all the hard work demonstrated consistently by our year 6 pupils, the children were rewarded with a fun-filled, exciting and exhilarating trip to Edge Lane Hollywood Bowl.
They enjoyed some games of bowling, played some of the games in the Arcade and as always were on their best behaviour the entire time, making all the staff extremely proud.
Well done for all your continuous hard work year 6 - keep it up!
Click here for some great pictures.
Year 4 Sound Values at the Philharmonic Hall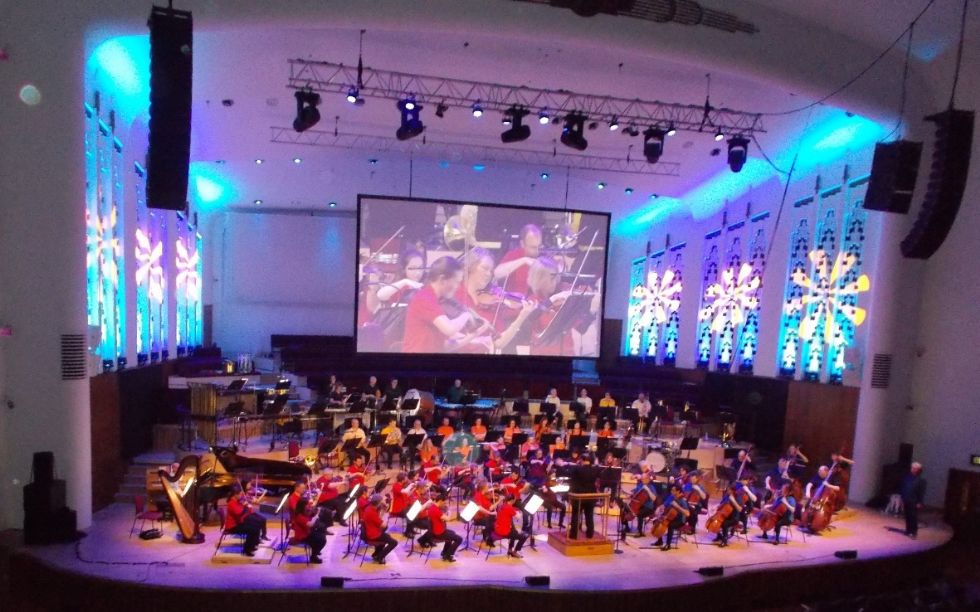 Year 4 attended a concert at the Philharmonic Hall called 'Sound Values'. We learnt the song 'All Our Different Voices' along with actions and performed this alongside the Royal Liverpool Philharmonic Orchestra. We also listened to music from a range of composers, linking the music to British Values.
Click here for a couple of nice pictures of the Liverpool Philharmonic Orchestra in action.
Year 4 visit the Martin Mere Wetland Centre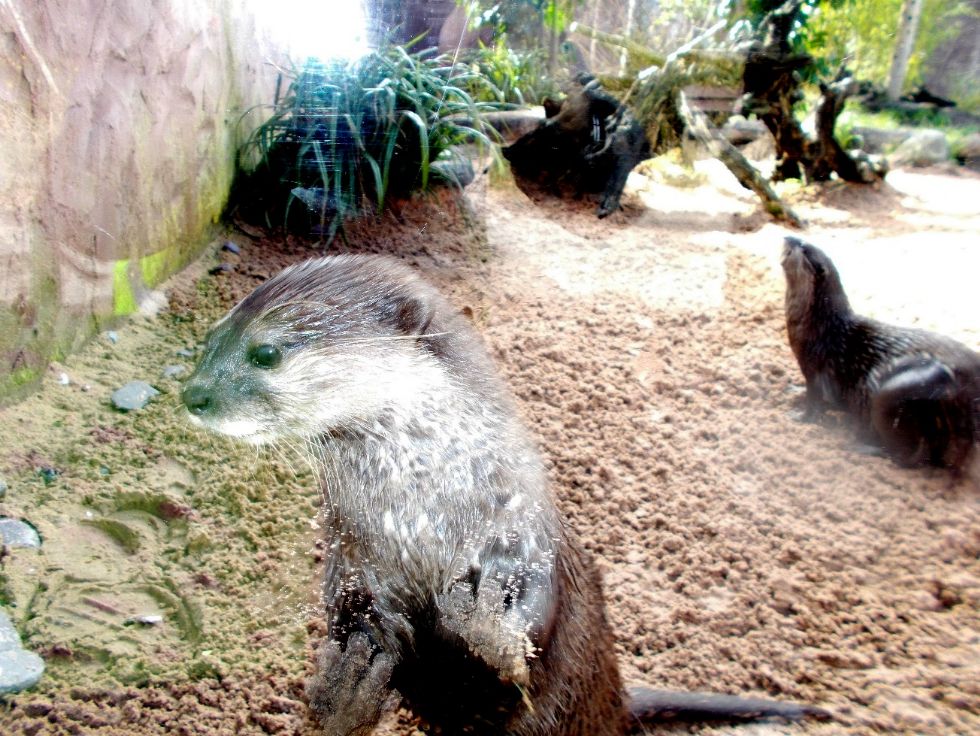 Year 4 took a trip to the Martin Mere Wetland Centre as part of their Science enrichment.
They took part in pond dipping, and became expert at identifying and classifying amphibians and learnt how important habitats are. They also had fun feeding the different types of birds and watched the otters have their lunch.
Click here to see some great pictures of the day.


LFC Book Day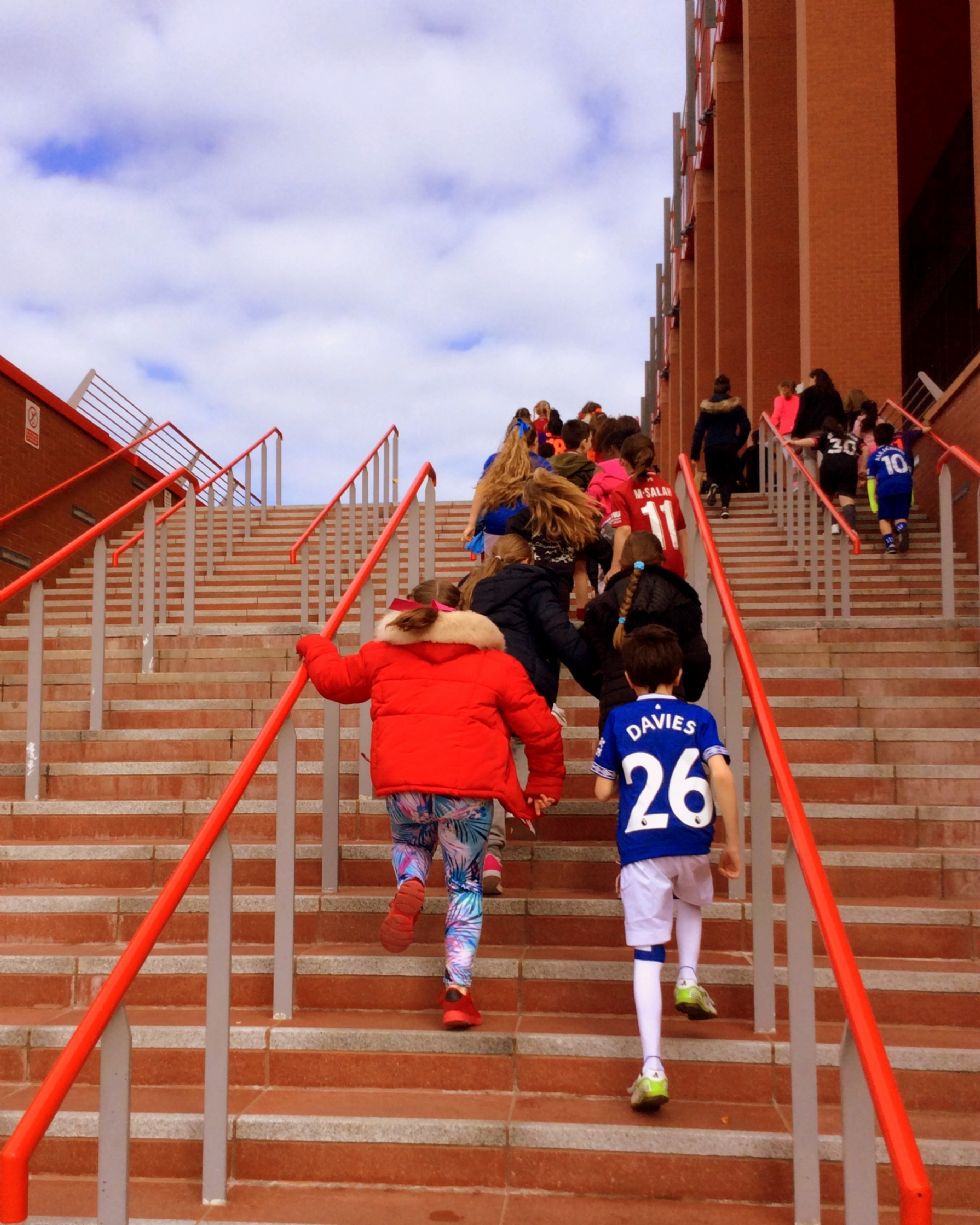 Year 5 attended a very special book event at Anfield. The event was hosted by LFC with the author and illustrator of the book Football School.

The children had the opportunity to got involved in a variety of lessons all revolving around football, for example Geography, Zoology, Maths and Drama.

The children danced with Mighty Red and scored a goal against Joel Matip. They all had a great time and enjoyed the day!
Please click here for more pictures.
Science Day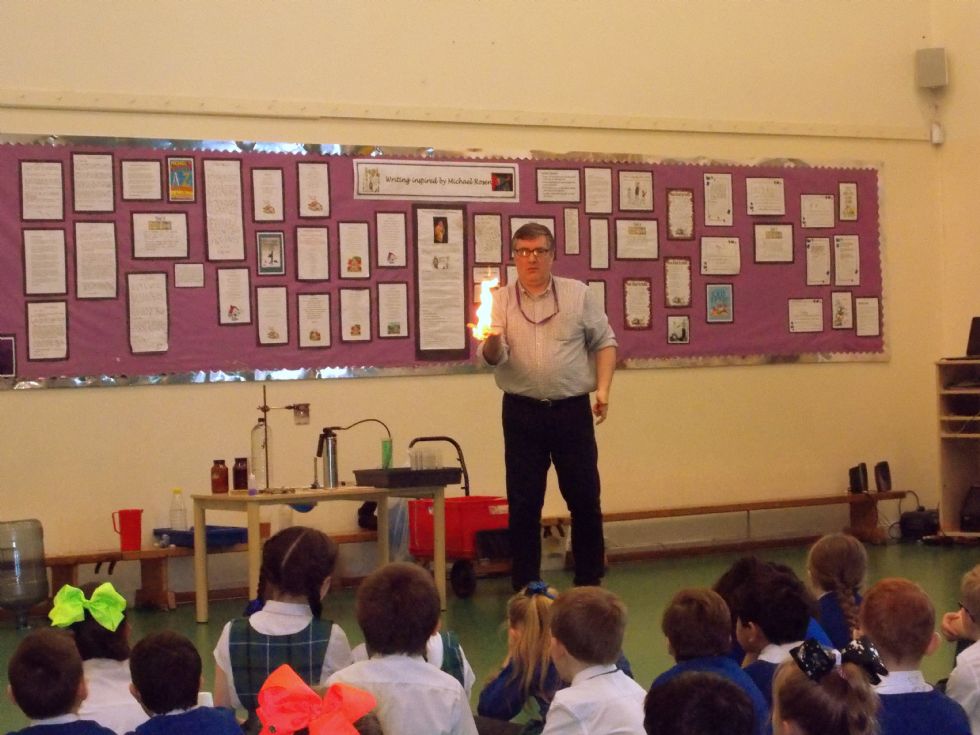 At St John's we were extremely lucky to have a visit from Derek Stanley. He amazed most of the school with some breath-taking science. We were lucky enough to watch some fantastic chemistry and physics experiments whilst learning all of the science behind how the experiment worked. Year 1 to 6 then carried out their own scientific investigations.
Click here to see pictures from Derek Stanley's visit and find out more about our science curriculum.

Science Day - Year 1 - Walking Water, Magic Snow and Elephant Toothpaste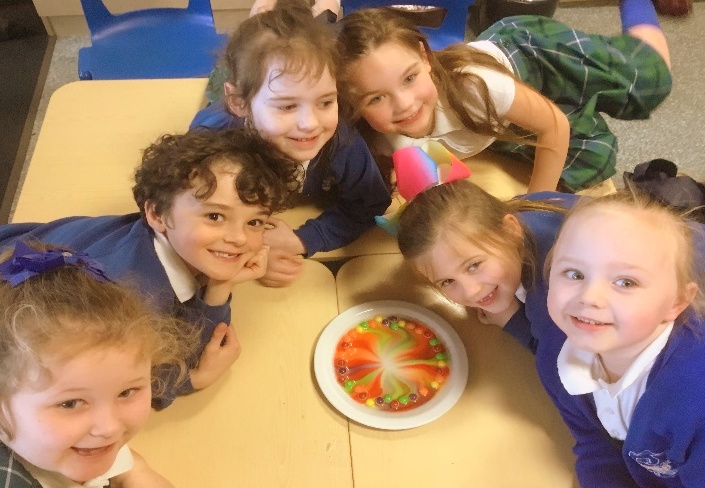 As part of Science Day, Year 1 conducted several fascinating investigations into Walking water, Magic Snow, Elephant toothpaste, to find out what any of these were all about, please click here.
Science Day Year 5 - Gravity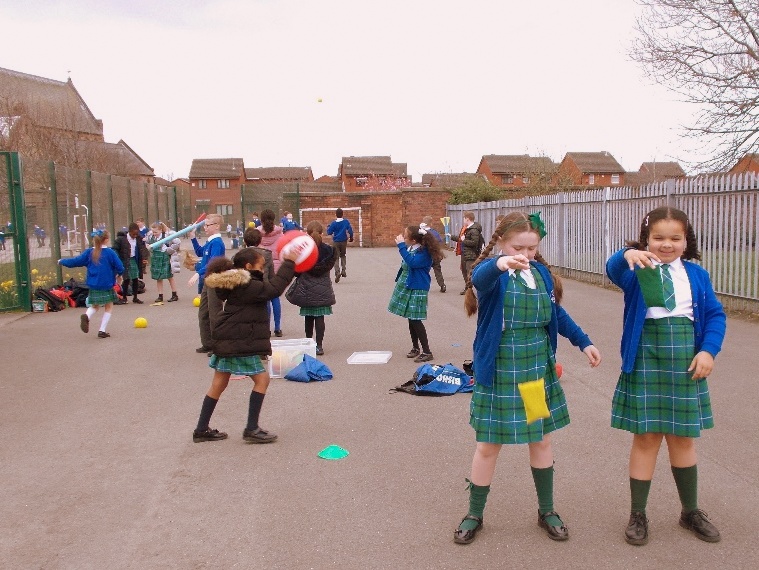 For Science Day, Year 5 went outdoors to investigate Newton's Theory of Gravity to see if what goes up must come down.
To see if it did, please click here.
Science Day Year 6 - Investigating Light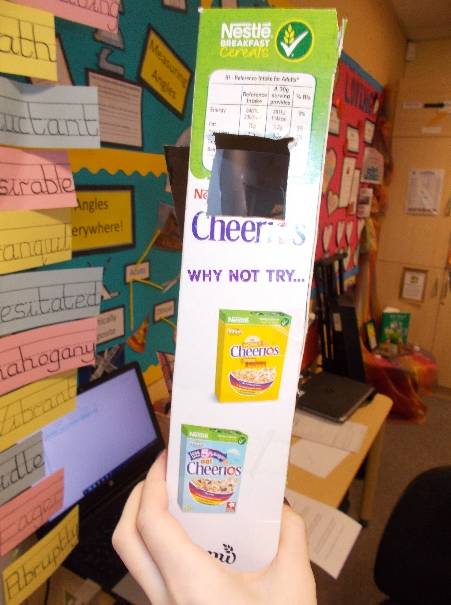 Science Day for Year 6 also followed in the footsteps of Sir Isaac Newton, who made the first reflecting telescopes, as they attempted to bend light around corners.
Please click here to see how they got on.
Don't Carry Knives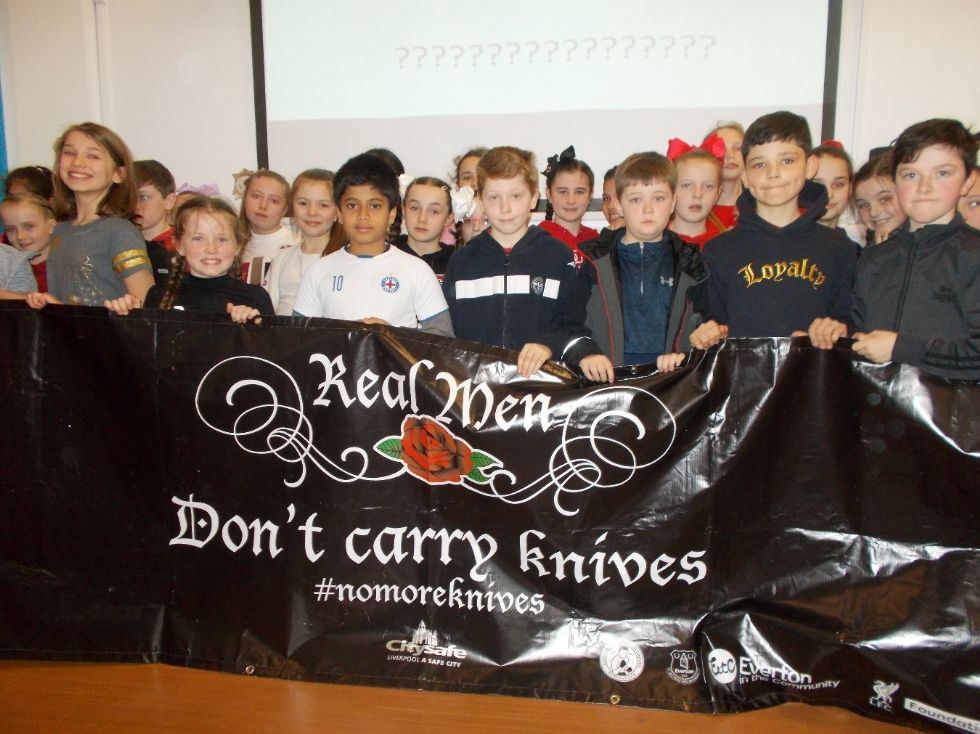 Year 6 attended the 'Don't Carry Knives' event at Faith Primary School. This high profile event was covered by local radio stations and North West News who highlighted it both on the morning TV and again later as a follow up TV and radio news.
The children listened to Alan Walsh who had first-hand experience of knife crime relating to the children the hard truth of carrying knives. How it impacts upon the victims whole family and the community together with how it impacts negatively on the perpetrator.
He talked about the realities of carrying a knife, highlighting how 90% of knives carried harm the carrier either by accidental self-injury or having the knife turned on themselves.
Please click here to read more.
World Book Day 2019

We celebrated World Book day in school by taking part in a variety of reading and book related activities in our English groups. We immersed ourselves in books and reading and had a wonderfully creative day enjoying books.
This resulted in each group focussing on selected books and decorating a book themed classroom door.
Take a look at the photographs here.

Year 4 - History - the DEWA Roman Experience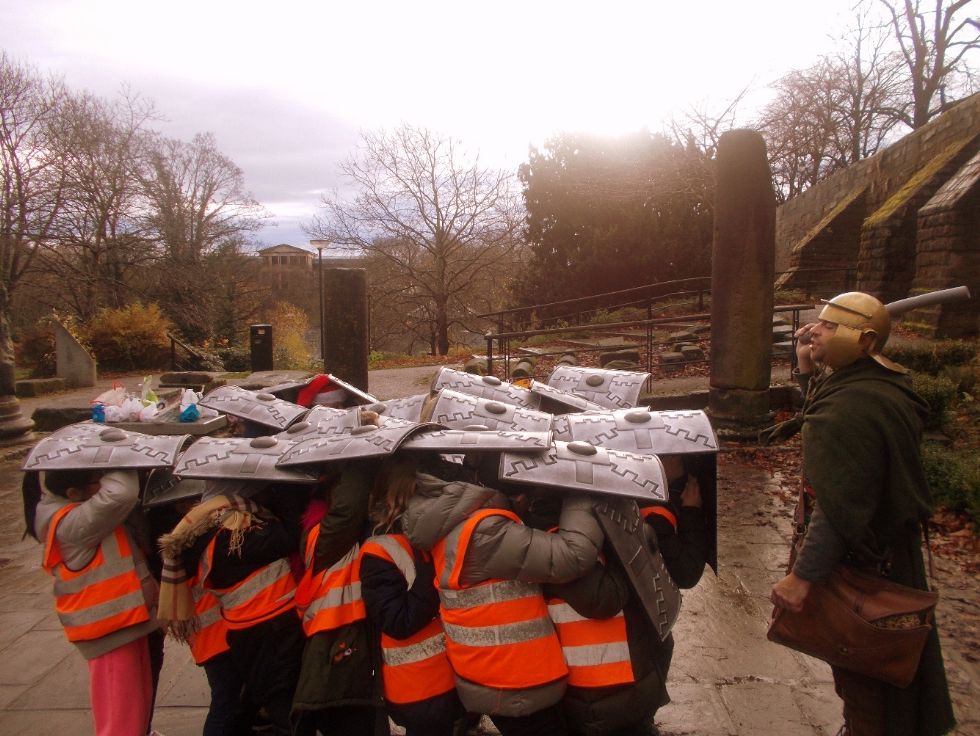 Year 4 went to Chester to look at the ruins of buildings left from the Romans. We learnt about why the Roman army were so successful in battle and discovered a range of things that the Romans introduced into Britain and the impact of this.
Year 4 - History - Edible Roman Road

Year 1 - Autumn Walk

Year 1, as part of their Science topic have been using their senses and learning about seasonal change.
They went for a walk around school and used their senses to see if they could spot any Autumnal changes! They found red, orange and brown fallen leaves and could hear the wind blowing through the trees.
Year 4 Design Technology - Food & Nutrition
As part of their Design & Technolocy topic, Year 4 designed and created their own healthy wrap. Some had fillings they had never tried before. They practised skills such as chopping, slicing, peeling and grating and finally, they got to eat their creations.
Later on in their English lesson, they created an advertising campaign to promote their healthy creations.
Year 1 - Chocolate Apples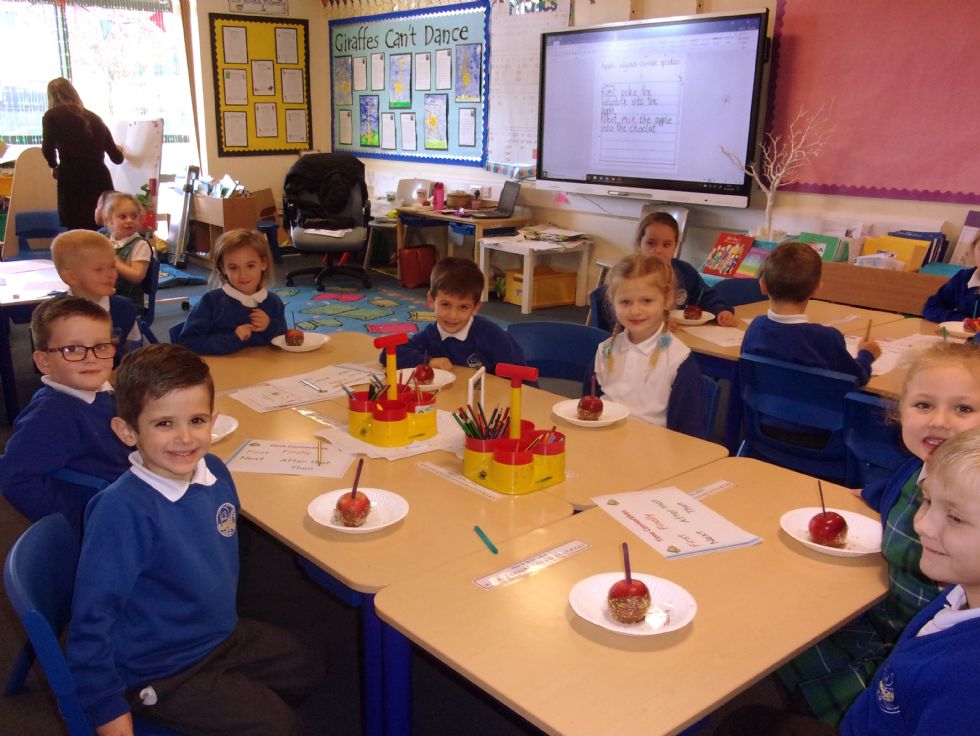 This week in literacy, Year 1 made delicious chocolate covered apples! Then they wrote their own set of instructions on how to make a chocolate apple. The hardest part was having to wait all day to be able to eat them!
Reception - Trip to Knowsley Safari Park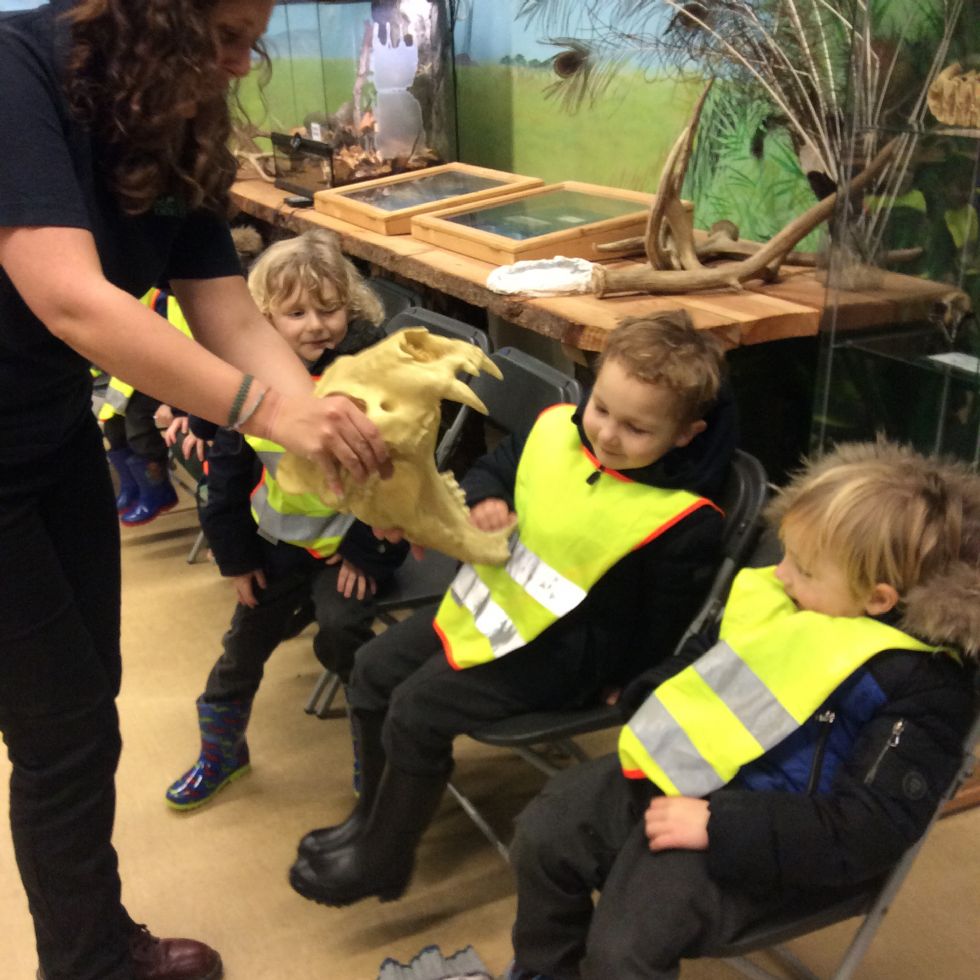 Just before Christmas, Reception pupils took a trip to Knowsley Safari Park. While there they got the chance to pet a snake and saw some huge snails. They saw the Sealions perform and play ball, and saw some lions and tigers (thankfully, safely from inside the coach).
Year 4 - Science - Electric Christmas Cards
Year 4 - Science - The Digestive system
As part of their Science topic, Year 4 constructed their own digestive system to help understand how it works.
Ofsted and Care Quality Commission SEND Inspection
from Monday 14 January 2019 to Friday 18 January 2019.
Ofsted and the Care Quality Commission (CQC) will carry out an inspection of local area. Under the Children and Families Act 2014, the government placed new duties on the local health, social and education services that provide for children and young people with SEND.
The inspection will evaluate how effectively the local area:
The views of children and young people with SEND, and the views of their parents and carers will be gathered.
There will be two meetings for parents which will be held at LivPaC (Liverpool Parent and Carers) c/o DCLP, 5 Shelmore Drive, Dingle, Liverpool,L8 4YL.
Nursery meet Santa at Knowsley Safari Park
Nursery pupils travelled to Knowsley Safari Park, to find out all about the animals that live there. While they were there they discovered that Santa had taken time out from his Christmas preparations to say hello.
We will have more pictures in the New Year from their trip. Watch this space.
CAFOD Santa Dash 2018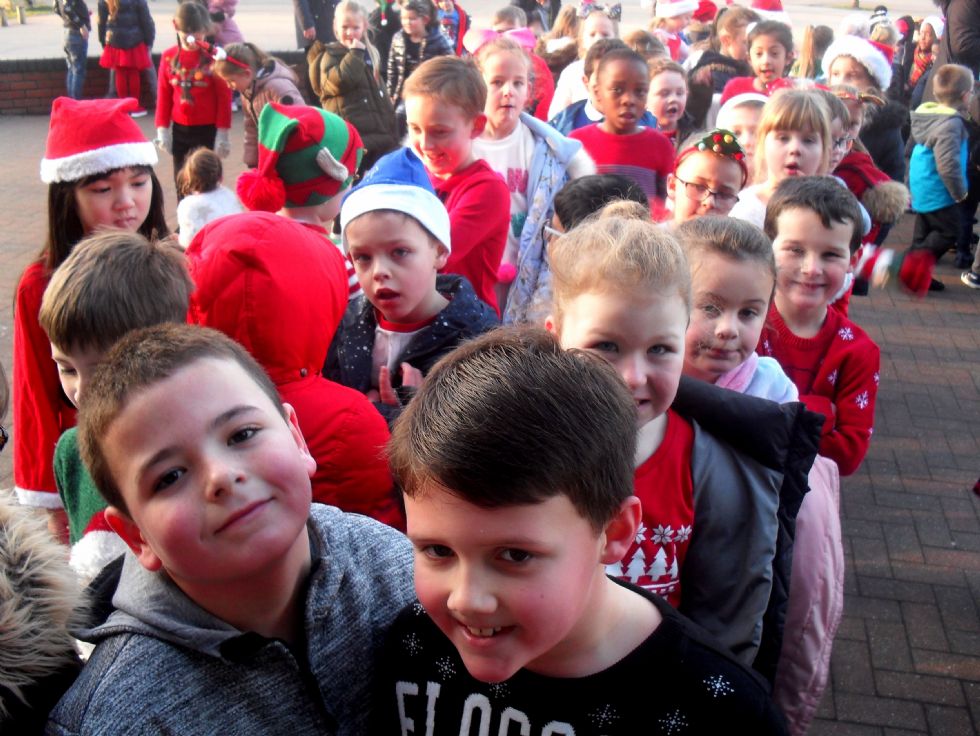 This year's St John's CAFOD Santa Dash was as ever a great success.
Thank you to all who participated and who made the run in festive costume, and everyone who contributed.
We raised £889.50.
You are all amazing.
Year 1 Bonfire Paintings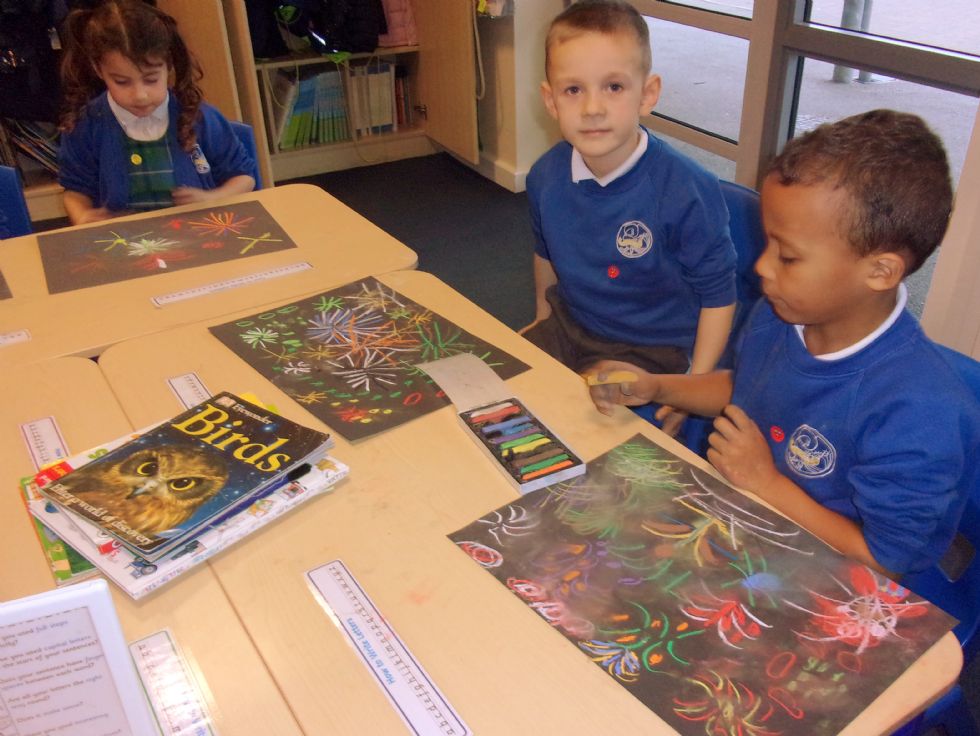 Year 1 created some beautiful pictures using images of fireworks to inspire them. They used coloured pastels to create different patterns, lines and shapes.
Parental Opportunities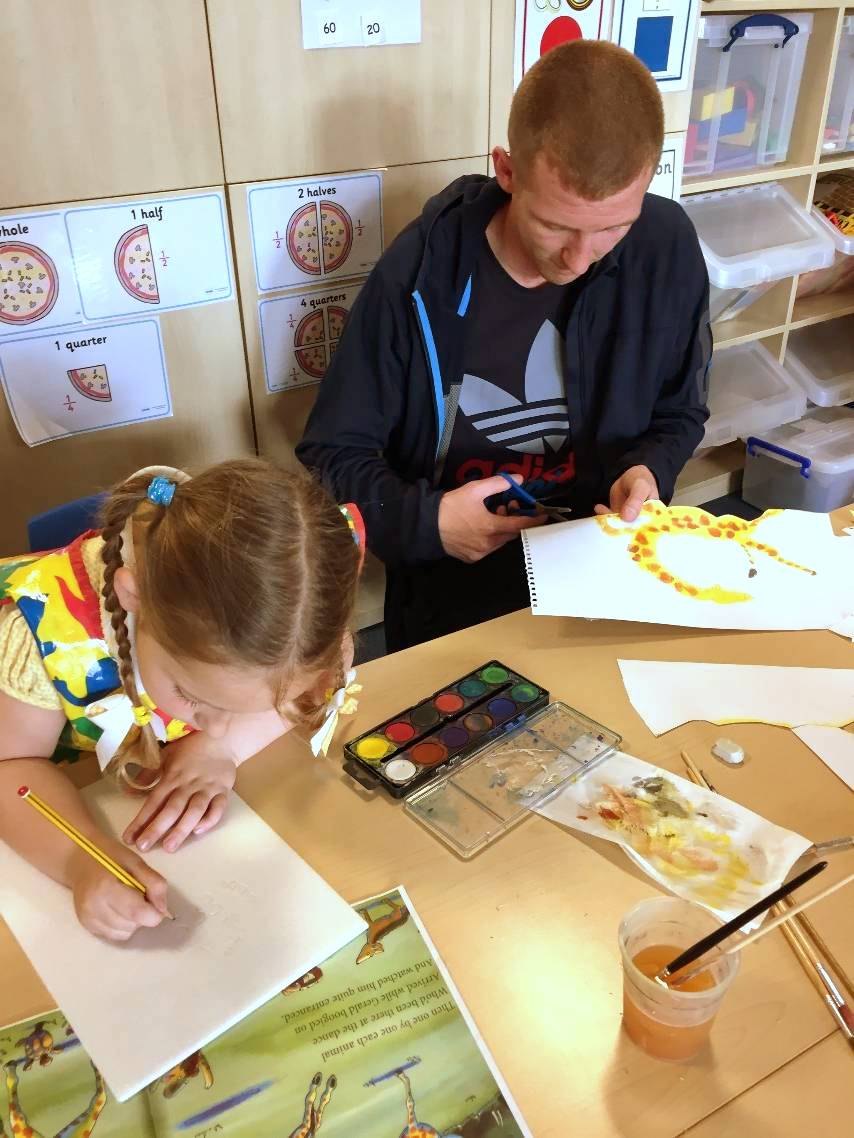 At St John's we include the whole family in the life of the school and the education of the children. There are many ways to support your child, further your own learning, and help support school initiatives and activities. Click here to see our latest flyer
Whole School Photography Day
Kittle Photography will be in school on Friday 19th October 2018 for Whole School Photographs – individual photos and siblings.

Year 6 Trip to Winmarleigh Hall

Year 6 went to visit Winmarleigh Hall for an all action residential adventure. It had it all, climbing, riding motobikes, dangling from ropes and marshmallow and campfires.
To see some pictures, please click here.

LFC Red Neighbours Initiative - Southampton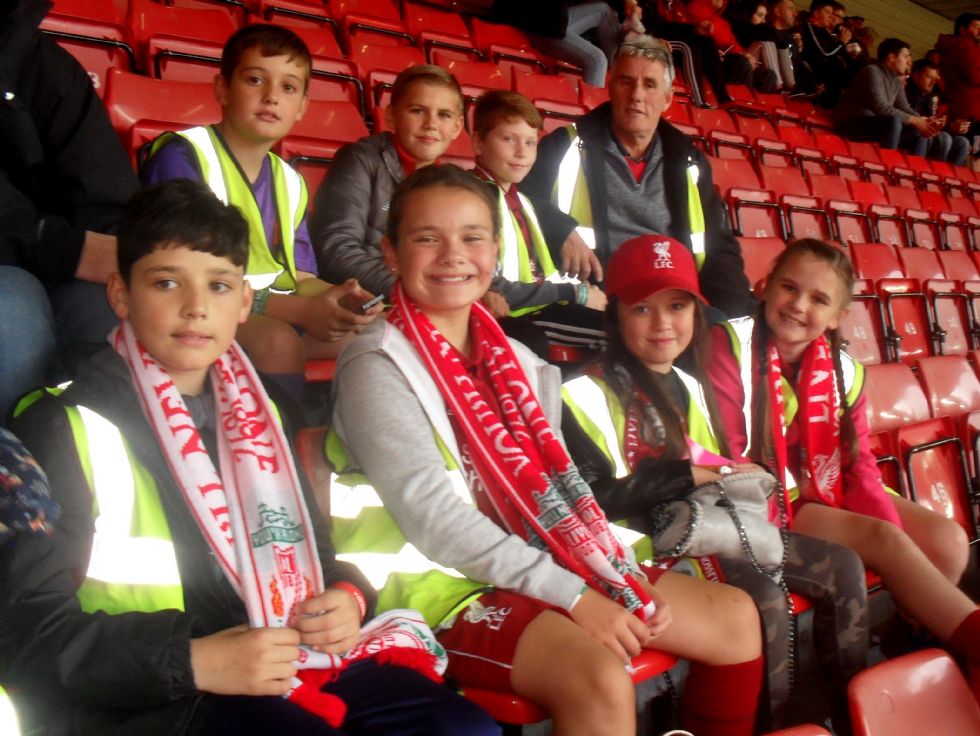 Cake & Coffee Morning

Cake & Coffee Morning – Friday 28th September 2018, 9:00am – 11:00am in the Small School Hall.
All monies raised will go to MacMillan Cancer Support. Everyone is welcome.
As always, we thank you for your continued support.