LFC Fan Initiative 16/17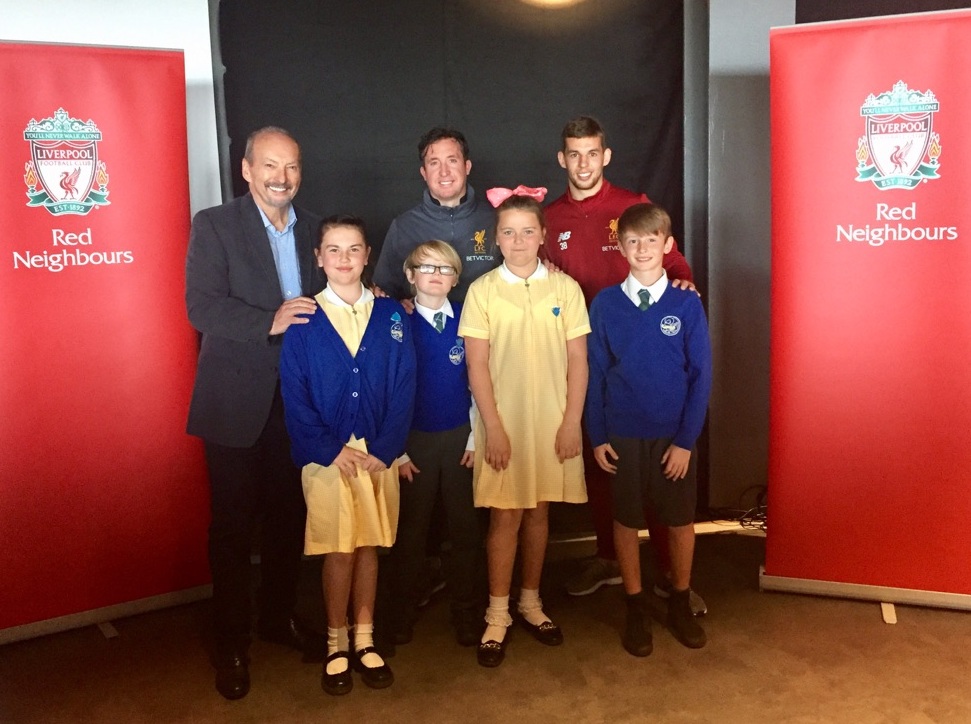 LFC Young Fan Initiative 2017-2018 Season
Head boy, Head Girl, Deputy head boy and girl went to Liverpool Football Club yesterday to take part in the draw for which Premier Matches St John's children will attend next season. They drew out West Bromwich, Leicester, Burnley and would you believe it EVERTON the derby game.
Next season 9 different children from year 5 and 6 will attend these matches courtesy of LFC.
Many thanks again to Liverpool FC who have shown such great generosity and support to our children.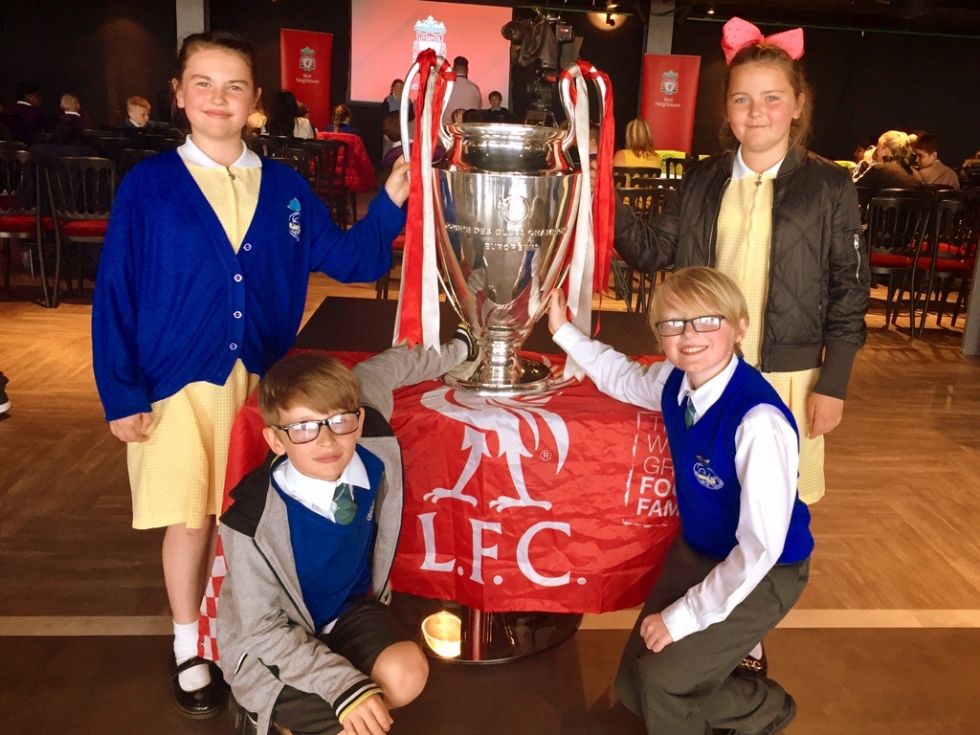 LFC Fan Initiative 2016-2017 Season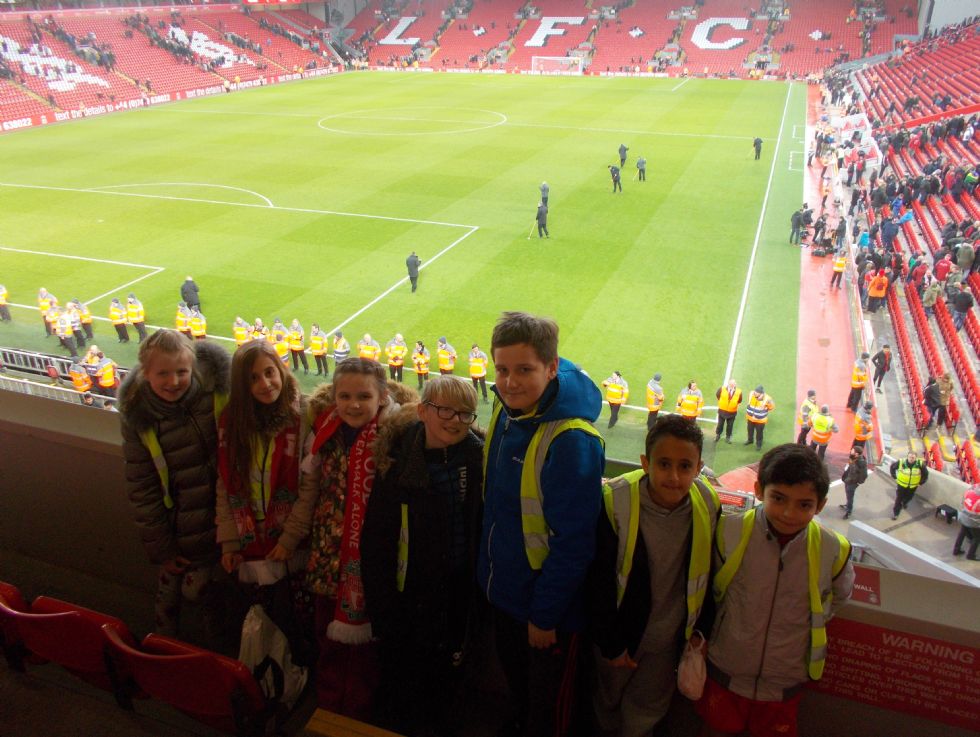 LFC Vs Burnley
Liverpool FC have provided our school with tickets for 4 matches during the season. This is part of the LFC Young Fan Initiative Scheme. The children have been to watch Watford, Chelsea and Burnley and the final opportunity was at the Crystal Palace game.
We have allocated our tickets to year 5 and 6 rewarding children for good behaviour and achievements in school. This initiative has been a fantastic experience particularly for children who have never been to a football match before.
Our pupils wrote:-
Liverpool vs Crystal Palace (April)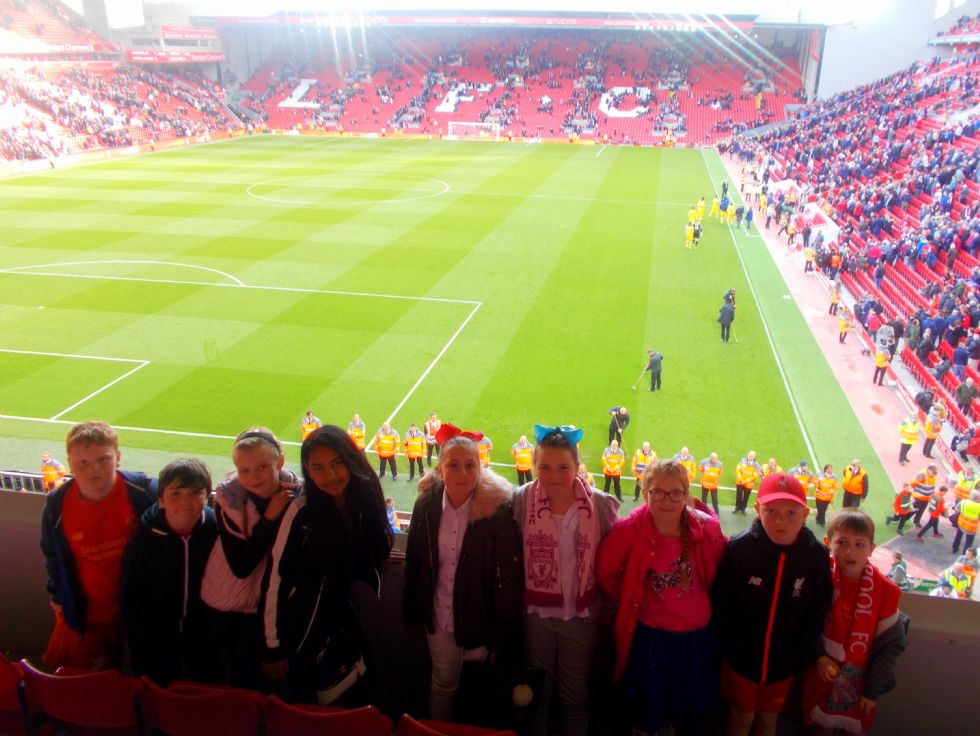 "On Sunday eight other children and I were so lucky to be chosen to go watch Liverpool play Crystal Palace in Anfield, Liverpool Football Club. It was a great experience as it was my first time! We had great fun watching the players kick the ball around and score. Lots of fans jumped up as Coutinho scored the first goal. It was sad because Crystal palace won 2-1 after all. It was great time with me and my friends and teachers."
"Me and eight other children were lucky to be chosen to and watch Liverpool vs Crystal Palace. We lost (2-1) but it was still a fun experience. Coutinho scored our goal. Everyone was screaming and shouting and me and my friend covered our ears"
Liverpool vs Burnley (March)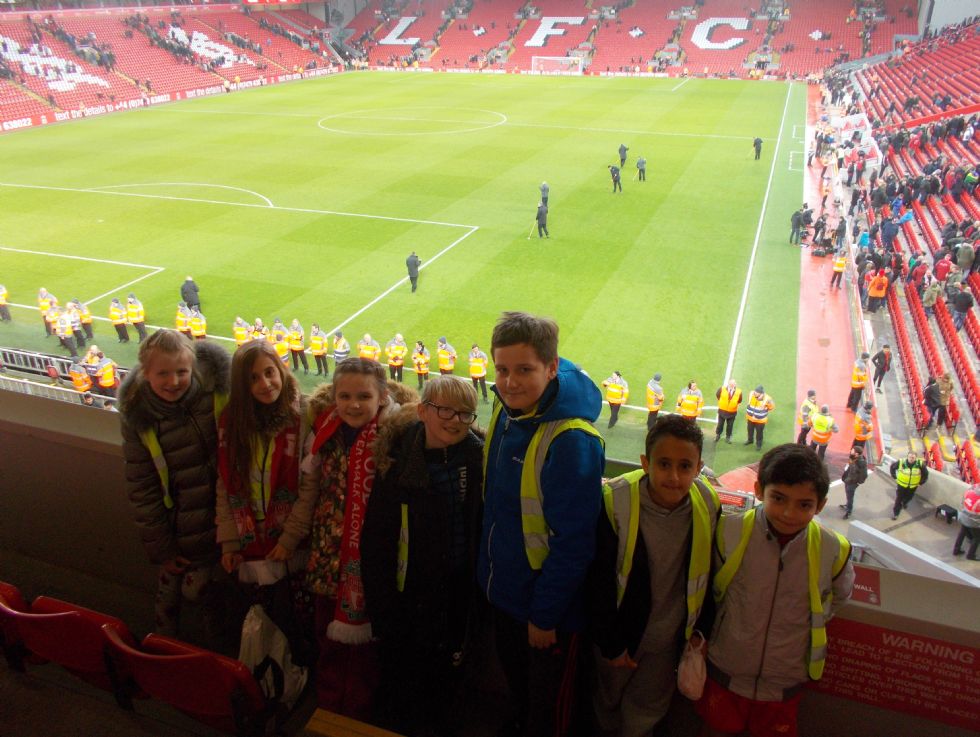 "On the 12th of March a group of people were chosen to watch the Liverpool vs Burnley. We all had a really good time during this game. We all had a really good laugh. The new stand blew my mind, how big it was. We are all really happy that we won. Yay!" - by R
"On Sunday I went to the Stadium and I watched the match which was Liverpool vs Burnley. Liverpool won 2-1 and it was fun and I enjoyed it. I was excited when I went there because it was the first time I went there. Me and Husam were to chosen to go because we have been doing well in school and It wasa fantastic and brilliant and I was happy Liverpool Won" -by R

"I went to the football match with my school on Sunday. When we entered the stadium we almost went deaf with the noise of the crowd, but it was great fun the game ended 2-1 and Liverpool won. It was a really close match. The Liverpool fans came out of the stadium really happy but the Burnley fans came out disappointed." - by H

"I got a badge and a scarf on the way. Burnley scored first, just got lucky, but Emre Can scored a brilliant goal from outside the box smashing it into the bottom corner We managed to hold on for the win making it a perfect day" - by G

"On Sunday I really enjoyed the match but when Burnley scored first I thought that they was going to win. When Liverpool scored I knew they were going to win and when they scored again I was really happy." - by H

"I thought the match was great, it was dissapointing at the the start because Burnley scored but Liverpool pulled it back. After half time Liverpool scored again, so the score was 2-1. Liverpool were great at defending so Burnley didnt have a chance of scoring, so in the end Liverpool won." - by J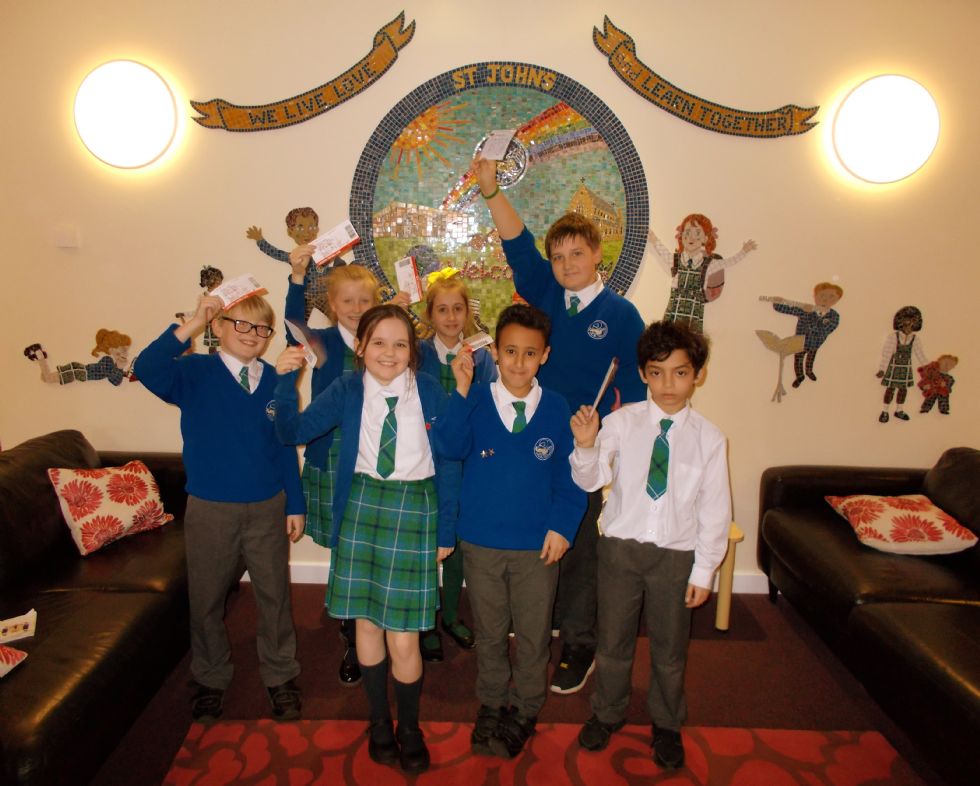 Liverpool vs Chelsea (January)



When I went to the Liverpool vs Chelsea match we could bring sweets and chocolate, the seat I sat on was S1. We drew 1-1, Wynaldum scored for Liverpool and David Luis scored for Chelsea, the time was 20:00pm. -by S

"I remember on that day I went to the football match and we all sat down and then after about 25 minutes Chelsea scored and Liverpool never, but after some more minutes Liverpool scored and Miss Evans picked up L and was jumping with them and L was laughing. When the half timewas on, we ate sweets and then watched the match." - M

"When I walked up I got a badge. The weather was horrible the ground was lighting up, it was fantastic. David Luez his goal was horrible, it shouldn't have been counted, LOL, so glad the boys fought back to get a draw" - by G

"I remember on that day I went to the football match and we all sat down. After about 30 minutes Chelsea scored and Liverpool never, but after another 30 minus it was the players break times. So we went to the toilet and came back and had some sweets. Then like 20 minutes later Liverpool scored and Miss Evans picked me up and swung me and we were laughing. I really liked the football match. The End." by L
Liverpool vs Watford (November)


"From the second we went in the stands for the match I was excited because I knew we were going to win, as i predicted we won 6-1 to be exact. Watford put up a good fight but we were better, to be honest I was honoured to be in the first group (to go to the match)" - by L
"I went to see Liverpool vs Watford. When we got there, we were welcomed by Mighty Red. We got his photo and an autograph. The score was 6-1, I enjoyed it a lot. My favourite part was when Liverpool won." by G
As part of the LFC Young Fan Iniative we were also invited to celebrate Liverpool Football Clubs "125 Year's" click here to read more.