Inspired By Michael Rosen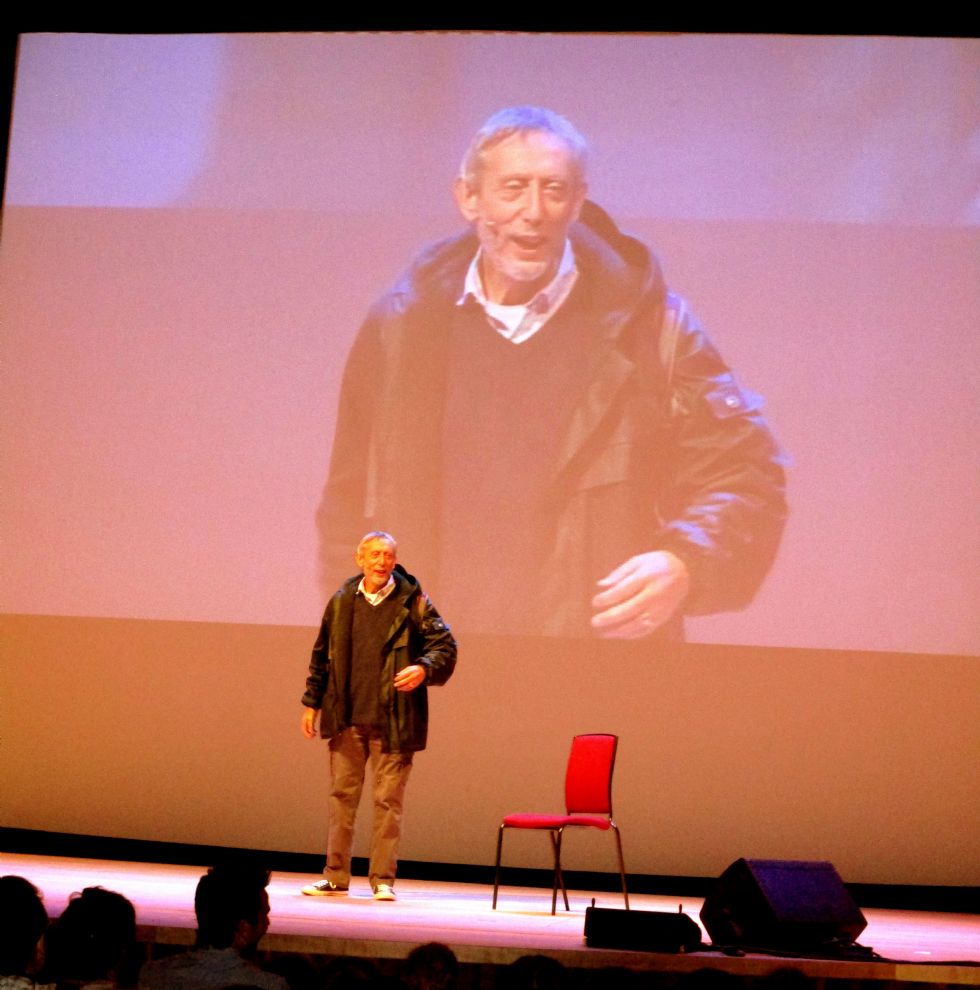 Writing inspired by trip to The Philharmonic Hall
We recently were very fortunate to visit the Philharmonic Hall to watch a performance by the famous author – Michael Rosen. Year 3 to Year 6 had an amazing morning and we were really inspired by his funny stories and childhood experiences. We have written letters to say 'thank you' for this wonderful day.
Dear Michael Rosen,
I am just writing to say thank you for spending your time with us and here's a letter to say thank you.

You really made me think, why I never read your books, so I have decided to start reading your books more. Thank you for coming to the Philharmonic Hall. If you never came I would not know how good your books are.

You really made our school laugh especially me. I noticed the other school laughing but not as much as much as us, we really enjoyed your performance it was the best.

We were all in stitches when your face was moulded like clay. You could keep your face in that position, your eyes were sticking out like footballs, especially the phrase every one loves and every one says every day now and that is,'bendy bendy bendy snap!'

We all hope we see you again, hope you have more funnies next time you come.

You're sincerely


Elisha
St. John's visit to the Philharmonic Hall
On 2nd October St. John's were invited to the Philharmonic Hall, Liverpool to watch a poet. His name was Michael Rosen.
He was really funny and made us all laugh. My favourite part was when he was in school and the teacher told him to concentrate. He made this weird noise because you squeeze concentrate into juice.
I would really like to see him again. He is the funniest person alive. I would like him to come into our school so the infants could see it as well.
I would recommend adults take their children to see him as they will really enjoy it. He will really make you laugh and blow your socks off in laughter!
To conclude, I hope you will go and see him wherever you live. He tours all around the country.
Ellis
Reading Persuasion – inspired by Michael Rosen
Hello, St John's students,
I am writing to you to persuade you to start reading because if you don't, bad things will happen to your future… Start reading again, or carry on with the book you're reading .Even if it is a book from Mc Donald's.
Recently we went on a trip to see Michael Rosen at the Philharmonic Hall. He told us all about how reading is really important in your life. Philharmonic Hall is a place where famous people perform and talk about their stories.
Michael Rosen is a super famous author. He is funny as well as all his books are really good.
If you don't read you can't get a job, in fact you won't even be able to read or sign it. Reading gives you imagination and education-remember that. Same goes about your school work, if you don't read you won't pass your sats and you may have to be homeschooled and you wouldn't like that would you?
More people sit on their bottom playing on technology when they could be playing out or reading. Although Xboxes and all that are fun, reading is the key to a good life. If you don't read no one will want to be your friend because you will be constantly asking them, what does this, this, that mean? You will not get a girlfriend or get married.
Computing is only a limited activity, you earn it. Get a job of computing then, because childhood shouldn't be ignored by your technology! If you don't read you won't be able to do your homework, resulting in tons of detention. No reading is an important thing in life because if you don't read you won't be able to read the daily newspaper.
In conclusion, reading is really important to do because it can, and will help you through your life. Sure, you may be a game player but find time to read. Some guy on the internet read and he has a Lamborghini from it.
By Luke