E Safety Poems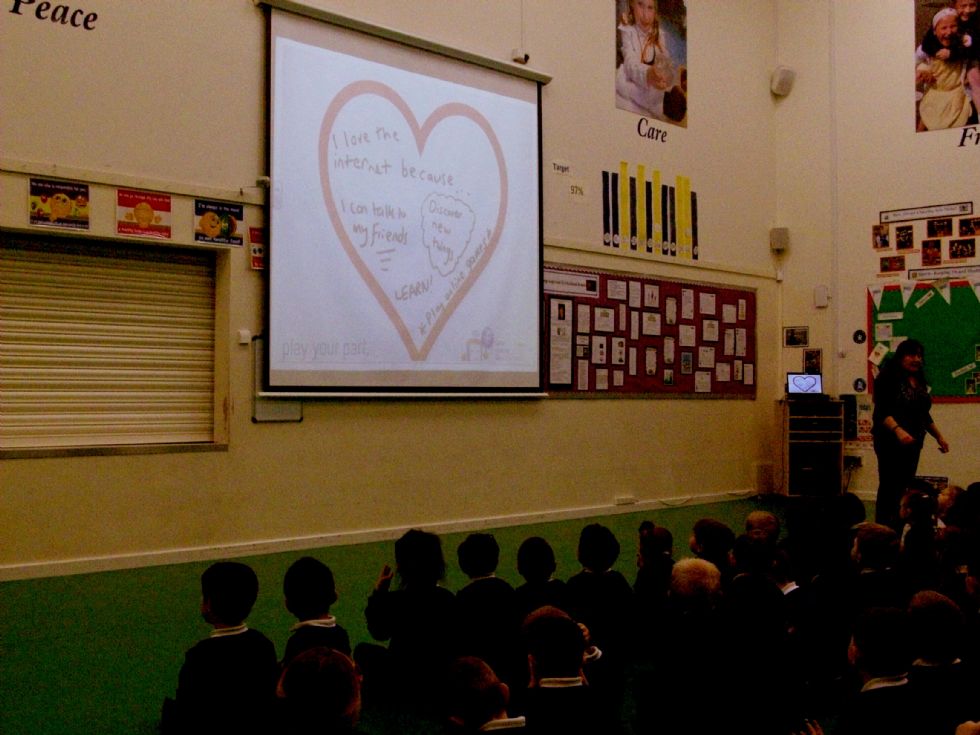 Mrs Dougherty's Y6 English group have used the important messages from Internet Safety Day to write poems to share with all pupils in our school. We read them in assembly and are really proud of the messages they convey. We hope they help you think carefully about the importance of staying safe on the internet.
Cyber Bullying
There are dangerous men,
Who want to text you today.
Don't give information away,
Go the police and they'll deal with it straight away.
Don't give your password away,
Because you might not be friends the next day.
They might pass it on to someone else,
Who might put something on to hurt yourself.
Cyber bullying happens a lot today,
Don't bully because you wouldn't like it happening to you would you hey?
People might not want to go to school,
Be cool don't make someone look like a fool.
Don't open emails,
Ignore all the details.
So protect yourself today
Don't listen to what other people have to say.
By Brandon – Year 6
ESafety! Be Safe!
Strangers text you; it could be a bad person,
Not to worry, they think they've won,
Don't text strangers,
It could lead to dangers.
Strangers use a fake identity,
But we don't need their pity,
Lots of children use Instagram,
Some get texts off a woman or a man.
Always check your privacy settings,
Don't accept because they gave you a ping,
Don't do what they tell you to do,
They are just trying to fool you.
Make some cakes,
Instead of speaking to your mates,
Play some football,
But never answer an unusual call.
At the end of the day,
Make sure you stay safe!
By Isabel - class 6D
Why E-safety is important
If you're doing your homework,
And don't know what to do.
Go on the internet,
And now you do.
On the internet,
Some people have a fake identity.
So stay safe,
And stick with your mate.
If you're on an app,
Like Instagram or snapchat.
You need your privacy on,
So please go on.
You don't know who it could be,
So please be safe online.
Don't be a bully,
Be a goody.
Have fun and be friends,
And make sure it never ends.
By Megan – Year 6
Internet Safety Poem
Hey what do you say,
If a scammer sent a link with the word Hey?
Playing minecraft alone is fine,
Just be smarter when going online.
Xbox live is just the same,
But getting upset is your blame.
Club Penguin is secure,
This may be your cure.
Make sure your privacy is pure,
As it expires more and more!
The are many dangers,
So be protected like Jesus in a manger.
Cyber bullies beware,
People are smarter and care.
Don't open up unknown files,
As they may contain a virus.
By Luke – Year 6
My important e-safety poem
Internet is one of the most popular things
In the world today.
But it could be a bad way to play.
Kids everyday get bullied on the internet.
And always regret.
Always be on private on social sites,
So people can't enter your personal life.
Don't talk to people you don't know.
You could be little but they're fully grown.
Even when you're at home.
You're still not protected from google or chrome.
By Yasmin – Year 6
Social Sadness
When you go on social media,
Keep your account private.
Everyone spends ages on computers;
Have you forgotten how to ride a bike?
Don't meet up with people you meet online,
You could get taken away.
If you get a nasty message on social media;
Tell your parents.
Don't accept messages or follow requests from people you don't know,
They might be a bad person.
Social media was made for teenagers;
So why are we going on them?
At the end of the day we are going to go on them,
But be safe on the internet.
Aaron 6D