Archived News
News from 2017- 2018
LFC School Ticket Draw

Liverpool FC Red Neighbours School Ticket Draw
St John's has been included in Liverpool FC's 'Red Neighbours' community programme, one of its aims is to create memorable experiences for young people and the school are given tickets for four Liverpool home games.
We chose 4 children who we think are good role models in our school to go to Anfield. The children attended with the other schools to take part in a 'Champions League' style draw with, to find out what games our children will get to go and see next season at Anfield. To find out what fixtures the school drew please click here.
Y3- Ice Cream Farm

Year 3 attended Cheshire Ice Cream farm. It was a great day with brilliant weather. The children enjoyed quad bike rides, a walk round a farm seeing different animals, indoor and outdoor play areas and ice cream of course! A huge thank you to our staff helpers and to the children for their excellent behaviour. Click here for the photos.
Y3 - 3D Structures - Egyptian Masks

Art 3D Structures: Egyptian Masks
As part of their 3D structures topic Year 3 designed and created their own Egyptian Death masks. They did this by taping a mask onto a cardboard template and using paper mache to secure it. Next they painted their mask in metallic colours and then used bright colours to paint their designs. Click here for photographs.
Y4 - Trip to Martin Mere Nature Reserve

Year 4, as part of their Living things and their Habitats topic had a trip to Martin Mere Nature Reserve to observe living things in their environment. They took part in various activities that encouraged us to think about the structure and classification of creatures. They also learnt that all living creatures, including the ones we had seen, play an important role in preserving our environment. Click here for the pictures.
Y2 - Windmill Farm

Year 2 enjoyed a wonderful trip to Windmill Farm in Burscough. We had so much fun, lots of us said it was our favourite trip ever! Steam trains, adventure playgrounds and lots of cute animals. They took some great photographs of the day, check them out here.
I Sing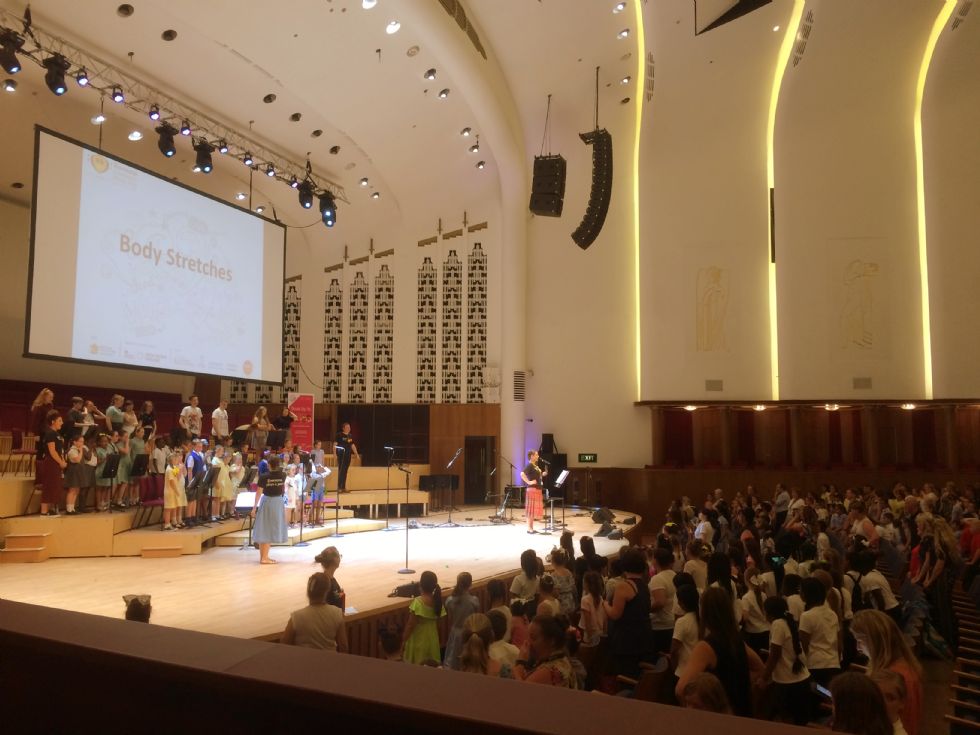 I
Eleven children, who are members of the Resonate choir, enjoyed a wonderful day at Liverpool Philharmonic Hall.
The choir sang a selection of songs and over 1500 children took part in the event joining in with the singing. This was a fantastic opportunity for the children to sing in this amazing venue and a day that the children will remember for a long time. Click here for more information.
Y5 - Knowsley Safari Park Trip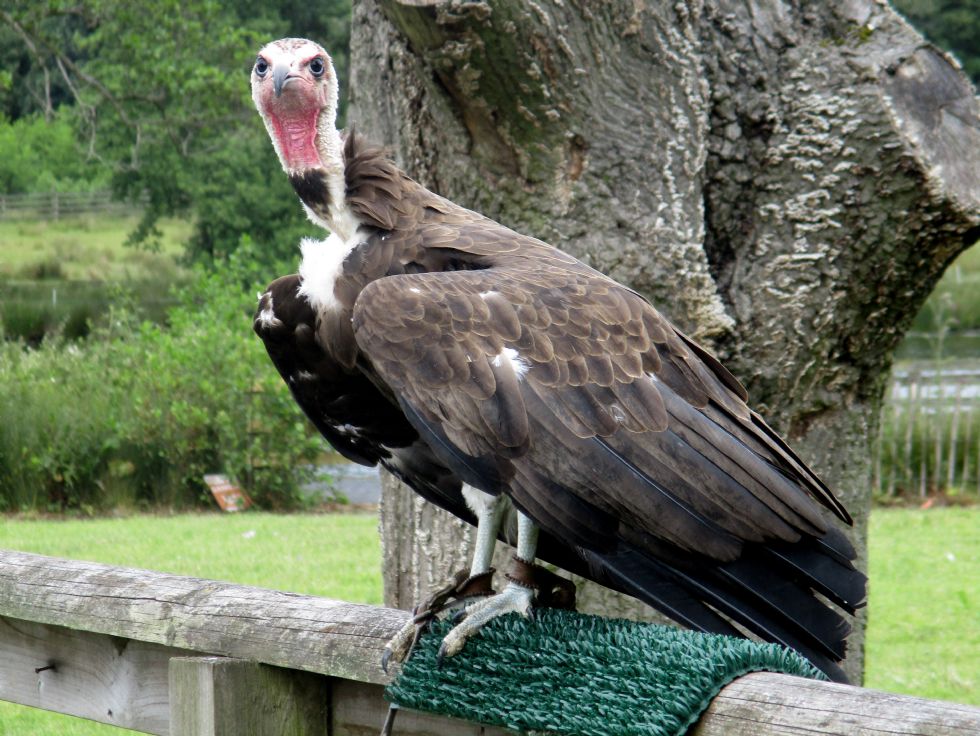 Year 5 went to visit Knowsley Safari Park. They saw giraffes, lions, snakes, emu's, antelopes, rhinos, bison, owls, a bald eagle and many more animals. They had a talk in the reptile house, and got to touch a snake, and watched the sealions playing football. Some pupils even got to ride on a very slow moving zebra. It was a fascinating and lovely day out. Click here to have a look at the pictures.
Y6 - Connex Careers Workshop

Year 6 took part in a Careers Day. During the day they had the opportunity to explore different jobs and discuss their future aspirations.
As part of the day's activities the children listened to a variety of people, ranging from a fire-fighter to a Marketing manager, about their jobs, how they achieved their dream job and at the end of each session the children asked some thought provoking questions. Click here for some pictures and more information about the day.
Y3 - Mummification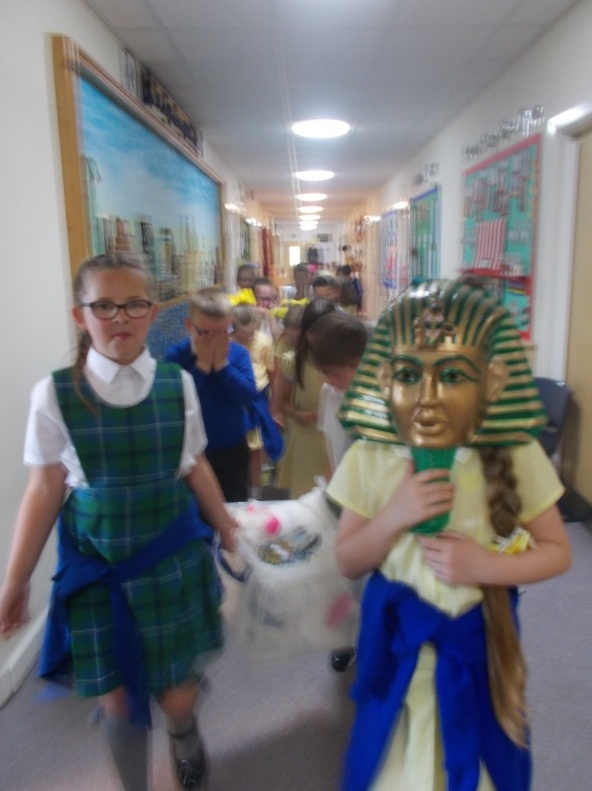 Year 3 have been learning about the Ancient Egyptians, and in order to understand the stages of mummification, they mummified a teddy bear. If you are not feeling squeamish, click here for the details.
Pirates Ahoy! at the Merseyside Maritime Museum

In English, Year 3 have started the new topic of adventure stories with a focus on 'Pirates'. They attended a 'Pirates Ahoy' session in the Merseyside Maritime Museum, where they took part in a range of activities such as role play, singing sea shanties, learning about every day life on a ship, the hazards of being a pirate, also having an opportunity to search for treasure. We will be using this inspiration to write our very own adventure stories involving Pirates. Click here for the pictures.
Water Safety
30 children from St.John's were lucky enough to be chosen to attend the NFCC Drowning Prevention and Water Safety Week at the Pier Head in Liverpool. The children met many of the emergency services and were taught how to respond in dangerous situations. They even had a ride on the Mersey Ferry, it was a great day. Click here for some fantastic pictures.
Faiths Alive - The Parable of the Sower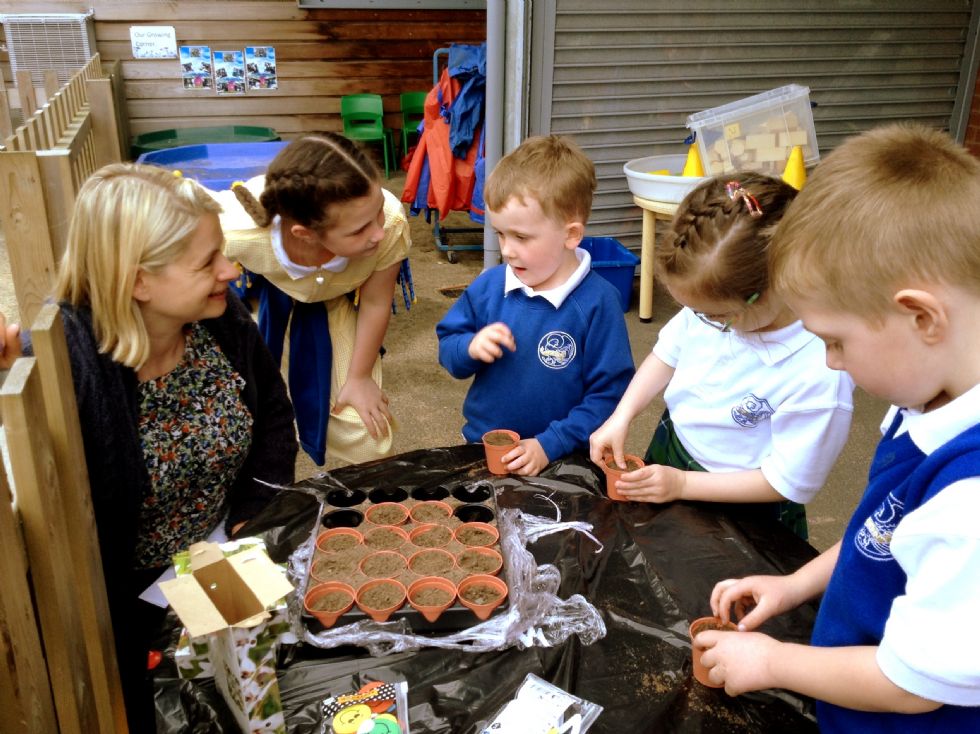 Faith's Alive recently spent an afternoon in Reception carrying out activities based around the parable of The Sower. The children planned and prepared their own activities and carried out the session with support from Anne and Pat, our 'Faith's Alive' co-ordinators. Click here for some pictures.
Blossom

After finally getting some sunshine, the trees in our playground, for a brief short week exploded into colour. Mr Walsh took this lovely photograph of the event.
Year 3 Damien Harvey visit
Year 3 and 4 took part in a work shop with the author Damian Harvey. They got a chance to ask lots of questions and hear some of his favourite stories. There are a few pictures here.
Year 1 - Spring Walk

Year One enjoyed a lovely Spring walk. They walked around the school ground and found many signs of Spring, daffodils, blossom, trees in blossom, nests etc. They noticed the warmer temperature, the smell of lavender and cut grass. They enjoyed the feeling of the warm sun and the sounds of birds.To see some pictures of their walk, please click here.
Year 3 - Stone Age Art

For their History topic 'Stone Age to Iron Age' Year 3 looked at famous cave paintings from the Stone Age. They discussed the colours, technique and content of Stone Age paintings before applying the same techniques to create their own. Click here to see what they produced.
Year 3 - Making Marvellous Medicines

Year 3 have been learning about capacity and learning to read and use scales in litres and millilitres. They were given the task to create a range of marvellous medicines using precise measurements. Please click here for more pictures.
Year 4 - World Book Day

More fantastic pictures of World Book day in Year 4, click here to see them.
Year 3 - Europe Map Work

As part of their 'Europe' topic Year 3 have been using an Atlas to become familiar with the countries and capital cities. They then plotted major capital cities using 4 figure grid references. We worked in pairs with large maps of Europe, making individual flags to plot each city. Click here to see how it worked out.
Easter Baskets

As part of Year 3's Design Technology, they worked on 2D to 3D structures. They learnt a weaving technique using coloured card, constructed that into a cylinder shape and then added a secure base and a handle. This structure then became an Easter basket for their Easter treats. Click here to see some pictures.
Faith Alive

Our schools Faith Friends group, "Faiths Alive" led collective worship in Reception during Lent.
The theme of the worship was the importance of being a good friend and emphasised the need for kindness and helpfulness in order for people to grow just as the seed did. Please click here to see more pictures.
KS 1 and 2 National Curriculum Tests - Information for Parents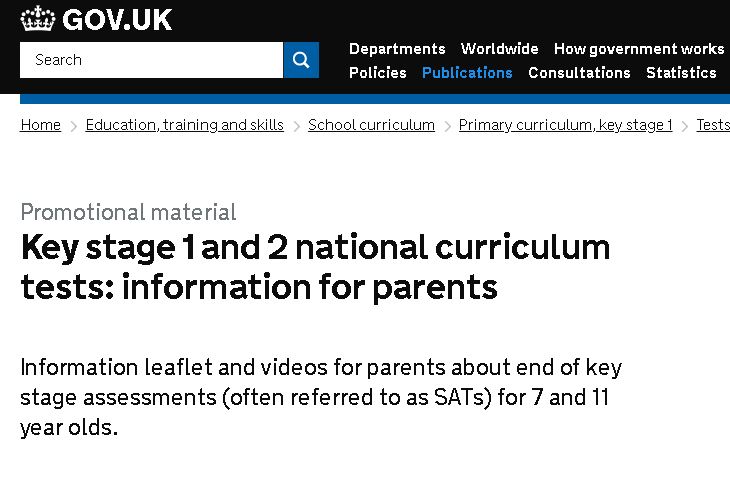 If you would like to find out more about the upcoming Key Stage1 and 2 national curriculum tests, Gov.uk has published some helpful links
These and other useful links are also available in our Parent Information section here.
Merseyside Gymnastics Finals 2018

For the 2nd year running our KS2 gymnastics team made it to the Merseyside Gymnastics Finals, at Steble Street. They once again competed against the best teams in the region for their sport. Mrs WIlson, their coach said she was extremely proud of all the children who worked extremely hard to make it to the finals. Please click here for some more pictures.
LSSP Dance Festival 2018

Dance club took part in the LSSP Dance Festival at The Academy of St Nicholas. Everyone had a great time performing and all received certificates for their hard work. Please click here for some pictures.
World Book Day in Year 3

Year 3 celebrated World Book Day in style by coming to school dressed as a book character or wearing pyjamas ready for a bedtime story. Click here to see the pictures.
Nursery - Spring Update

Nursery have posted some pictures from their Spring term, if you would like to see what they have been up to, please click here.
Year 6 - Bossa Nova Glockenspeils

Year 6's music class, led by Mr Menzies have been playing Bossa Nova rhythms on the Glockenspeil. With the marvels of technology their perfomance has been recorded in video. Click here if you would like view this magical performance.

Year 2 - Trip to Chester Zoo

Year 2 went on a fantastic trip to Chester Zoo, to complement their science topic, which is all about animals, their habitats and what they need to survive.
They saw some of their favourite animals and discovered new ones and had a cuided tour with one of the zookeepers. To see more please click here.
Art Project - Alice in Wonderland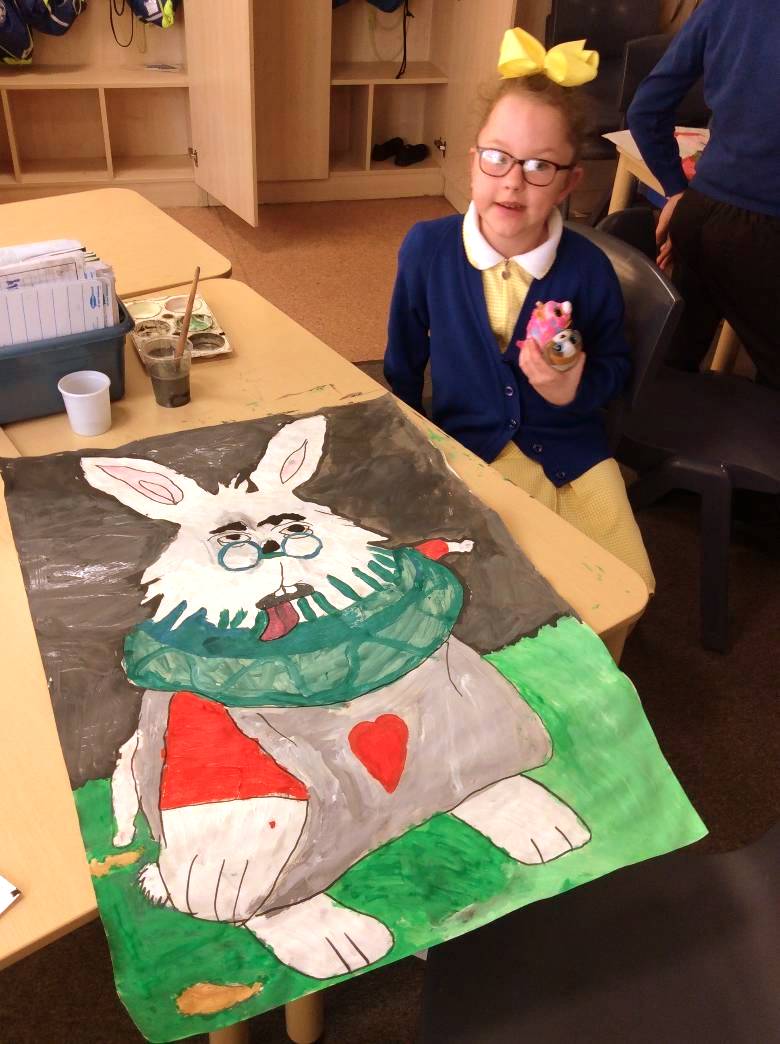 St John's Art Club have been working on a project mainly inspired by Alice in Wonderland. Pupils have recreated characters from the book including the very popular Queen of Hearts, the Cheshire Cat, Tweedle Dum & Tweedle Dee, The Caterpilla, The White Rabbit and the Mad Hatter to name a few. Pupils used various mediums, paint, felt tip, 3D masks.
To journey down the rabbit hole and see the results of all their hard work and the fantastic art they have produced, please click here.
Weekly Attendance Updates

Research shows that children who attend school regularly and on time are most likely to be more successful in their exams careers and adult life. A youngster who misses a day of school each week misses the equivalent of 2 whole years of school life!
If you would like to see our school's weekly attendance, per class, per week, please click here.
If you would like to see all of the Autumn Term's weekly attendance in one click, please click here.
Greenacres Farm - The Animals

Reception classes had a fantastic day out to Greenacres Animal Farm. They had lots of fun seeing the animals in the snow and meeting Father Christmas and his helpers. Click here to see Reception pupils meeting the animals.
Greenacres Farm - Father Christmas

Reception classes had a fantastic day out to Greenacres Animal Farm. They had lots of fun seeing the animals in the snow and meeting Father Christmas and his helpers. Click here to see pupils meeting Father Christmas and his helpers.
Best Termly Attendance Awards

Good attendance is so important for a pupils education at St John's.
Every term we hold an Attendance Awards Assembly to celebrate and reward those children who have achieved excellent attendance for the year so far.
Just before Christmas we held the Autumn Term Attendance Awards, click here to see who gained the award.
LFC Fan Initiative - Liverpool vs Leicester

As part of Liverpool FC's Young Fan Initiative, St John's received free tickets for the Liverpool vs Leicester game over the Christmas holidays.
As a reward for excellence, some Y5 and Y6 pupils were invited to go to the match. Liverpool came back from 1-0 down to win, with the final score being Liverpool 2 Leicester 1. Many thanks to Liverpool Football club in giving the opportunity to our pupils. Click here to read more about the LFC Young Fan Initiative games.
Y4 - Chester Trip to the Dewa Experience

Year 4 have recently been to Chester to the DEWA experience. They visited the Roman gardens and amphitheatre, had a guided tour around the museum and dressed up like Romans. Click here to see how their day went.
Reception Nativity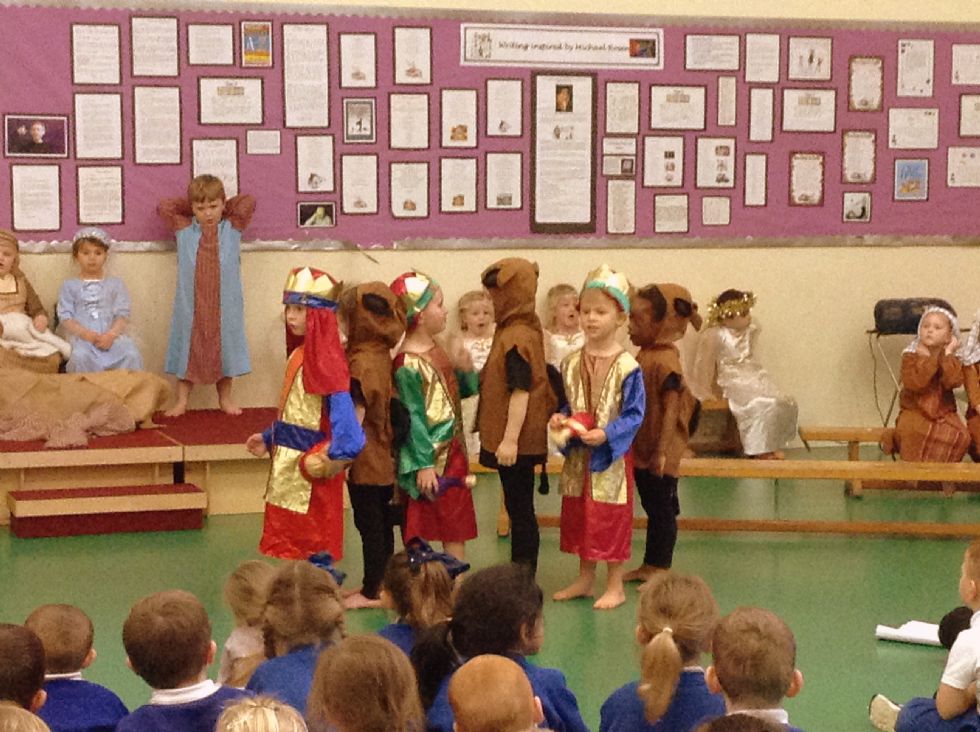 Singing, acting, performing and dancing was the order of the day for Gruffalos and Funnybones!
Christmas Carol Service / Nativity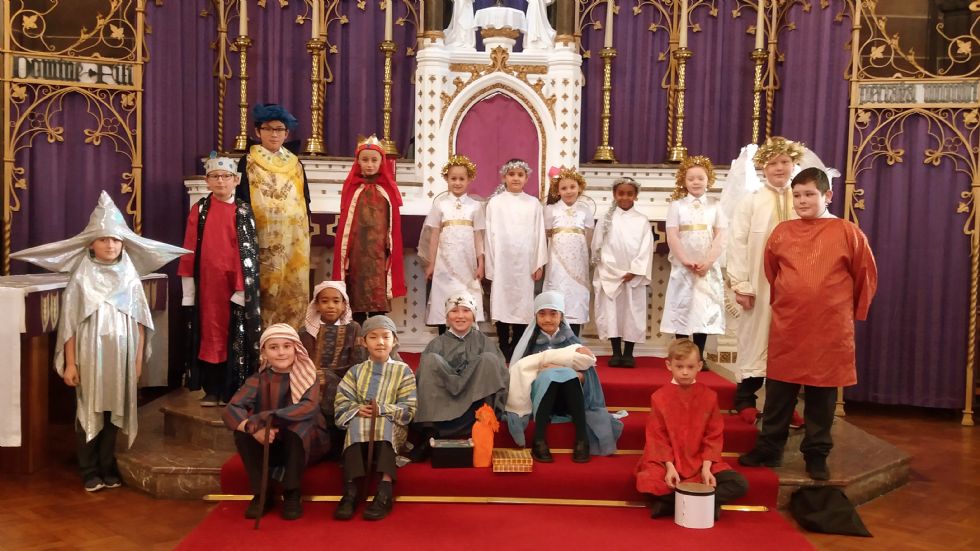 Children in KS2 joined together to performa a carol service in Church for the whole school. They told the story of the nativity through songs, readings and some fabulous acting. It was a truly beautiful service enjoyed by all!
Santa Dash / Coffee Morning / Christmas Bingo

The annual Santa Dash was, as always, enthusiastically supported. Santa Dash raised a collasal £991 for CAFOD. Our recent coffee morning raised £625 for Macmillan and the Walton Neurological Centre. Our PTA Christmas Bingo raised £419.50
Many thanks to everyone who dashed, and to everyone who helped raise funds. Click here for some more pictures of Santa Dash
Pyjama Party Liverpool

Collection Point -St John's Primary School
One simple idea: Giving new pyjamas to children who will be homeless or in need this Christmas.

If you would like to donate a pair of new pyjamas, all sizes from newborn to adult XL, for the older teens, we are happy to receive them.
Its completely voluntary if you would like to join in.

Closing date will be Monday 18th December 2017
Year 1 visit the Museum of Liverpool
Year 1 enjoyed a trip to the Museum of Liverpool as part of their History topic 'Toys'. Click here to see how their day went.
Odd Socks, an exercise in Anti Bullying

Year 4 celebrated what makes us all different and all equal for Anti Bullying Week. The children came to school wearing odd socks. Most importantly, it was an opportunity for children to express themselves and appreciate individuality and uniqueness! Click here for pictures.
LFC 125 Years - Art Project

St John's was asked by Liverpool Football Club to take part in an art project to commemorate the clubs 125th birthday year. A group of KS2 children worked with a local artist to create part of a canvas which will involve 25 local schools. It will be displayed at Anfield in the New Year. Click here for more.
Weekly Attendance

Our weekly attendance section has been updated to allow easy downloads of the weekly graphs, and previous archived years (2013-2016) have been re-organised.
If you would like to see how St John's weekly attendance has been so far this term, then please click here.
Year 6 - Daniel Morden at the Philharmonic Hall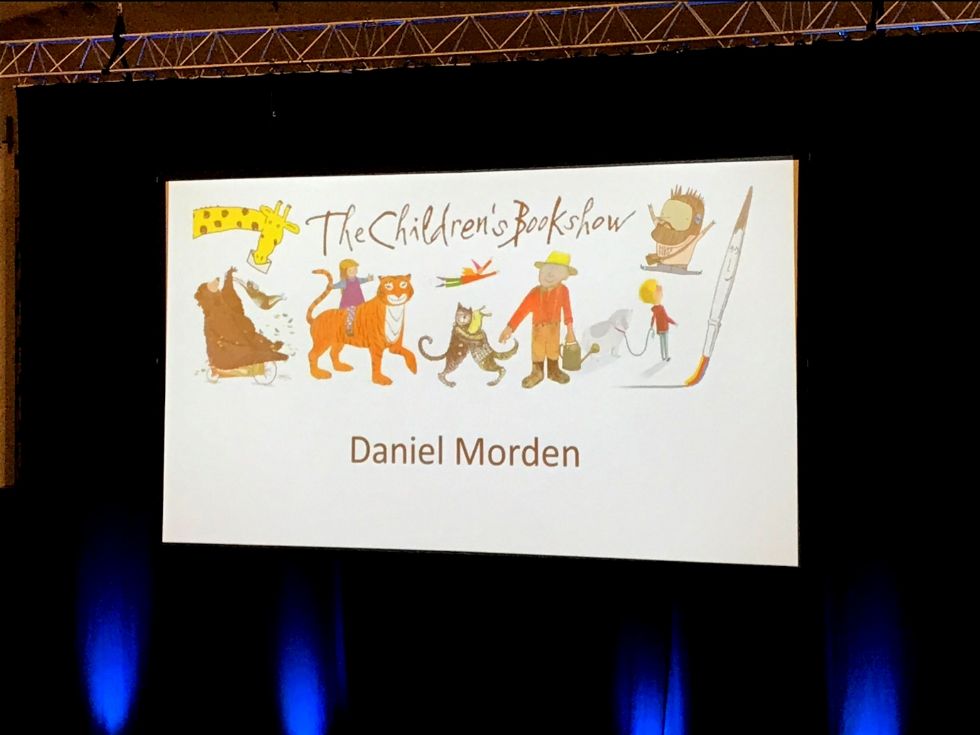 "You will have the time of your life"
Year 6 went to see Daniel Morden at the Philharmonic. Two Year 6 pupils have enthusiatically written up their account of the visit. Click here to find out what they have written.

Year 2 Geography Trip
Museum of Liverpool and Landmarks

Year 2 enjoyed an exciting trip to the Museum of Liverpool as part of their geography topic 'Our City.' They explored the museum and put their knowledge of Liverpool landmarks to the test. Click here for more information and pictures.
Harvest Assembly

Too see pictures of our Harvest Assembly please click here.

Year 3 - Contraction

Class 3B's weekly spellings are using contractions. To help them to understand when and how to use them they became 'word surgeons' for the day. To see how the surgeons worked click here.
LSSP News - LFC Academy Year 2 and 3 Football Competition
We took 2 teams from each year group to play at LFC Academy in their annual football competition. All the boys were so excited to play in this event and go to The Academy and enjoy the fantastic indoor facilities. Liverpool provided each team with a coach to have a warm up session and to look after them during the afternoon along side St John's staff.

We had a team from both year 2 and 3 who reached the semi finals but sadly missed out on the final. However, it was a great afternoon of excitement and football and a memory to last a long while.
Click here for more sports news.
LSSP News - Dodgeball team through to city finals. Kurling team through to semi finals.

Our Year 6 dodgeball team are through to the LSSP city finals, and one of our Kurling teams are through to the LSSP Kurling semi final, to check out more pictures of the competitions click here.
Children's University

St. John's have signed up to become a validated Liverpool Children's University Learning Provider, in recognition of the encouragement the school gives it's pupils to access learning beyond the normal school day and to gain recognition for their commitment to enhancing their own learning.
Children's University is a national charity, encouraging students to access a wide range of extracurricular activities to support and enrich their curriculum learning.
Children collect 1 credit for each hour they attend an accredited CU activity or afterschool club These credits are tracked throughout the year. Children and families will be invited to attend a graduation ceremony. The children will be robed in caps, gowns and stoles then presented with their national certificate. The graduation is a brilliant way to celebrate the commitment and hard work the children have produced throughout the year.
Click here to read more.
Coffee Morning

Coffee Morning – Friday 29th September 2017, 9:00am – 11:00am in the School Hall.
All monies raised will go to MacMillan Cancer Support and the Walton Neuro Centre in memory of our late colleague Aimee Blagdon.
As always, we thank you for your continued support.
LFC Young Fan Initiative 17 / 18

Liverpool vs Burnley
Some of our boys and girls were invited to Anfield to help Liverpool Football Club celebrate its 125th birthday. Apart from the score line L.F.C 1-1 Burnley it was a fantastic afternoon. As the players were walking out of the tunnel our children were standing pitchside waving scarves and flags, the children really enjoyed themselves and made the most of a brilliant experience that I'm sure our children will remember for a really long time.
Click here to see more pictures.
Year 3 - Cheshire Ice Cream Trip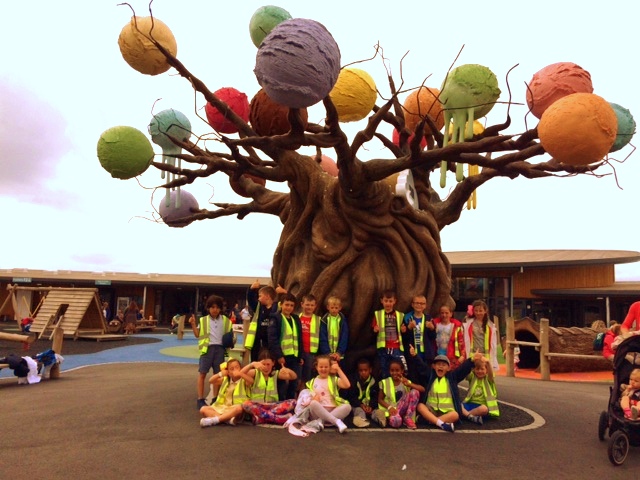 Year 3 recently attended their end of year trip to Cheshire Ice Cream Farm. We had lots fun and took part in a range of activities. Click here to see more
Year 2 - Windmill Farm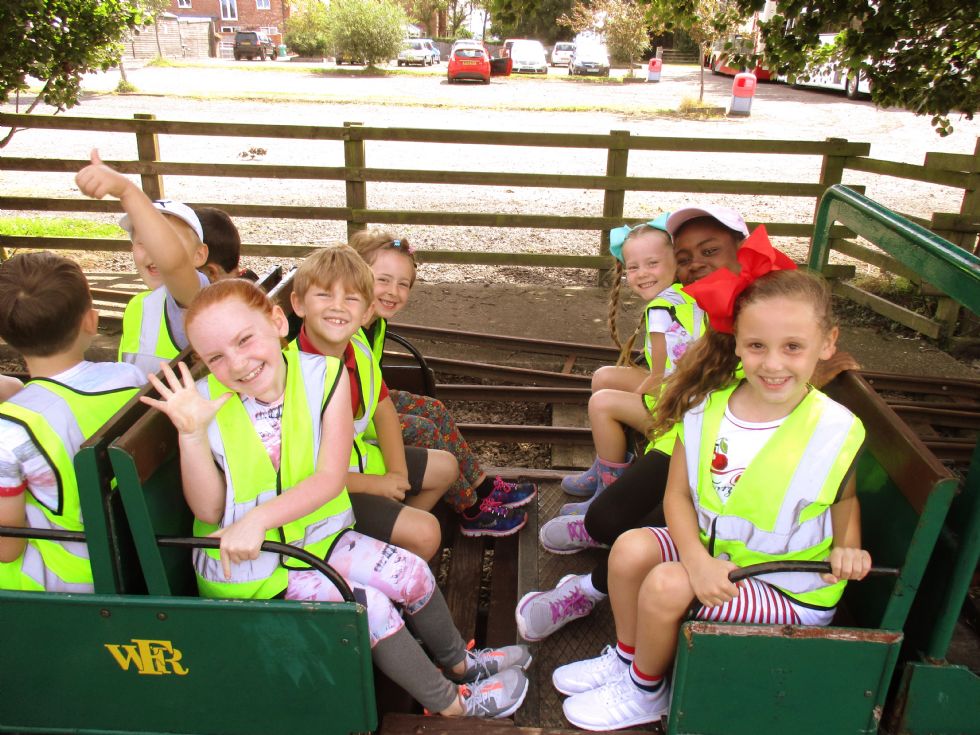 Year 2 enjoyed a fantastic end of year trip to Windmill Farm. Luckily, we had a lovely sunny day and got to enjoy all that the farm had to offer. There are some lovely pictures of the day, click here to see them.
Reception - Farmer Ted trip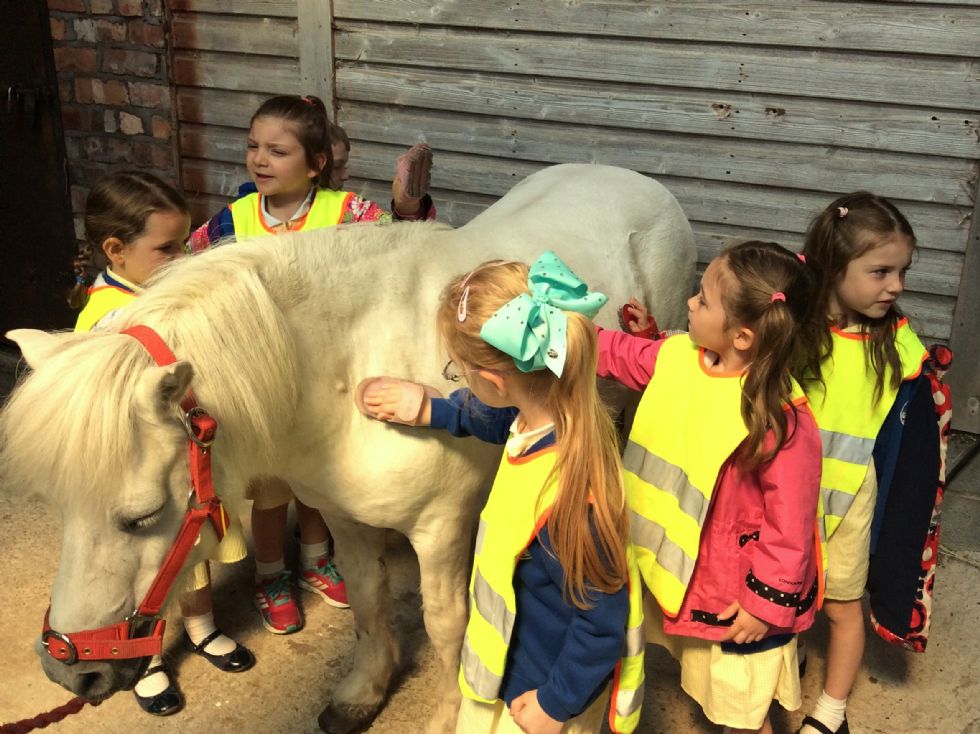 Both Reception classes visited Farmer Teds. It was a busy, action packed day!
To see how Funnybones got on, please click here
To see how the Gruffalos got on, please click here.
Reception also had a visit from a Fire Engine here.
Reception - Music Time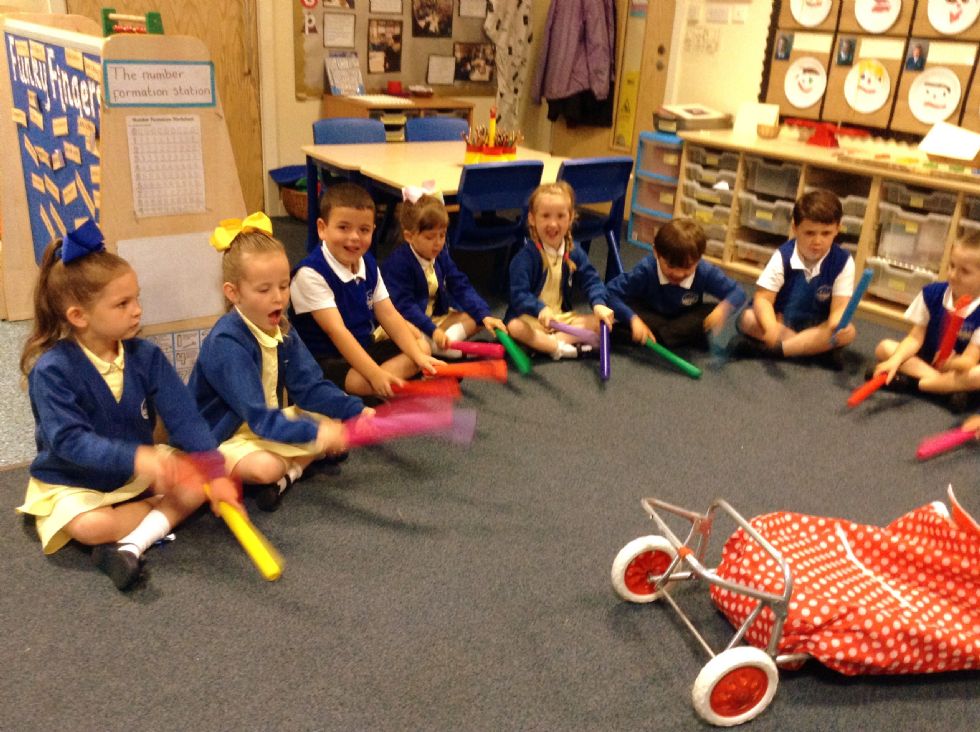 Reception enjoying a Music time class, more here.
LFC Young Fan Initiative

Head boy, Head Girl, Deputy Head boy and girl went to Liverpool Football Club yesterday to take part in the draw for which Premier Matches St John's children will attend next season. They drew out West Bromwich, Leicester, Burnley and would you believe it EVERTON the derby game.
Next season 9 different children from year 5 and 6 will attend these matches courtesy of LFC.
Many thanks again to Liverpool FC who have shown such great generosity and support to our children.
For more information on the LFC Fan Initiative for St John's please click here.